Healthcare stocks are looking better and better these days.
The brief correction this sector suffered in early August has since ended with the Healthcare ETF (IYH) bouncing off its 200-day moving average.
I see this 200-day moving average bounce as a sign of a strong uptrend and plenty of buying interest.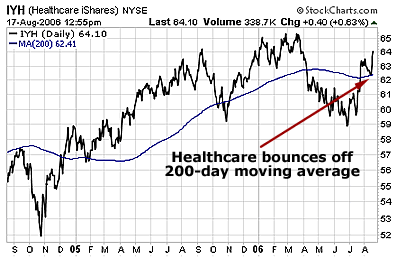 The biggest contributing factor to this bounce is the industry leader, Johnson & Johnson (JNJ), which comprises 11% of the ETF.
Obviously JNJ is not your typical growth stock. But J&J shares are on a tear, rising over 8% in the last month after posting solid second quarter results: earnings per share rose 10.7% on a total sales increase of 4.7%
There's more to this story than increased profitability however...
J&J shares took a tumble back in January as the company got embroiled in an acquisition battle with Boston Scientific over Guidant. Following that, the company announced a decrease in fourth quarter '05 sales.
When J&J shares bottomed out in March, director Charles Prince swooped in and snatched up 5,000 shares of its stock worth some $290,000.
You may already be familiar with Charles Prince. He's the CEO of Citigroup (C), the massive financial services company. Prince became an independent director for J&J in February 2006. The new position came with an $85,000 annual salary and a one-time grant of 1,000 shares.
In light of this, his $290,000 purchase represents more than three times what J&J will pay him in salary and more than five times what he'll receive in stock grants. It's the largest stock purchase Prince has made in three years' time. And it dwarves his recent purchases of Citigroup's stock: $11,000 in January 2006 and $21,000 in April 2005.
Sure enough, Prince bought value. J&J is currently cheaper than both its 5-year averages and its competitors for its price to earnings (P/E), price to book (P/B), price to sales (P/S) and price to cash flow (P/CF) multiples.
At these levels you could buy and hold this investment forever, accruing double-digit returns for the next two decades in compounding interest.
This cheapness has also attracted the attention of Warren Buffett, whose investment vehicle Berkshire Hathaway has bought over $116 million worth of J&J's stock in the last three months.
The CEO of Citigroup and the Sage of Omaha... you couldn't ask for better insiders to follow.
Good investing,
Graham