The amazing nine-week, 100-point rally we've seen in the S&P 500 is about to come to an end.
Of course, it's hard to say for sure the market has peaked. But enough technical indicators are flashing warning signs that it makes sense for traders to be a bit cautious...
Shares of
Merrill Lynch
are underperforming. Investor sentiment is as positive as it's been all year. The put/call ratio is falling. And the
talking heads
on CNBC are once again registering high on the "giddiness" scale.
And then, there's this chart...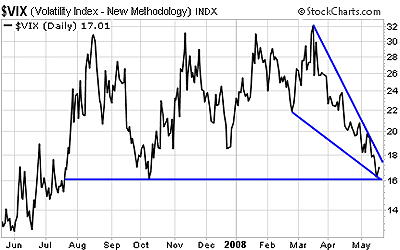 This is a chart of the Volatility Index. It's a measure of the premium investors are willing to pay to purchase options on the S&P 500.
A rising VIX indicates investors are growing more fearful of a potential downside move and are willing to pay up to buy protection via index puts. A declining VIX displays increasing investor complacency.
The VIX is best used as a contrary indicator. Indeed, the stock market often bottoms just as the VIX peaks, and vice versa. In other words: "When the VIX is high, it's time to buy. When the VIX is low, it's time to go."
Yesterday, the VIX closed at the lowest level of 2008. Worse yet, you can see the chart is tracing out a bullish falling-wedge formation. These patterns typically break out to the upside. And that spells trouble for the stock market over the short term.
No single technical indicator is correct all of the time. And it's foolish to move all in or all out solely on the basis of technical analysis. But I think these warning signs justify a bit of caution right now.
Best regards and good trading,
Jeff Clark