Let me tell you about a country that is in the midst of an economic boom...
It's experiencing real economic growth – which doesn't count inflation – of 4.7%. That puts to shame the 2.2% real economic growth of the United States last year.
It is also the third most economically free country in the world, after Hong Kong and Singapore, according to the Heritage Foundation. That means its citizens are relatively free to "work, produce, consume, and invest in any way they please," and the government protects that freedom. (The U.S. is fifth on the list.)
Finally, this country is a developed nation in Western Europe, it is a member of the European Union, and it has one of the smallest debt-to-budget ratios in the E.U.

Now, the amazing thing is, if you had invested in this booming economy on January 1, 2007, you would be down 31.4% to date. In fact, out of all of the indexes I follow, this country – Ireland – has the single worst-performing stock market over the last 12 months.
The following chart shows the Datastream Total Market Ireland index since 2000. This index holds Irish companies that range in market cap from €12 billion to about €50 million.
Irish Stocks Are Down 39.5% Since June '07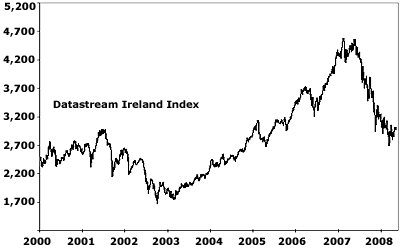 As you can see, Irish stocks peaked in early 2007 and have performed horribly ever since. How could a country that experienced such explosive growth in 2007 have seen its market tumble so far?
Stock markets are forecasting machines. And although Ireland's economic situation was bullish in 2007, investors expect it to become much worse in 2008...
Here is the situation: A large portion of Ireland's GDP growth came from industries related to real estate development. And like in the U.S., Ireland property is in the midst of a slowdown.
According to The Economist, "If the decline in [Ireland's] house prices were to accelerate, a recession would be likely."
So it doesn't sound like trend followers should buy now... But I am going to put Ireland on my watch list. Ireland's stock market is cheap. Its historical median price-to-earnings ratio is 12. Right now, Ireland is going for a P/E of 8. That's a big discount to where it normally trades...
When investors realize they may have overreacted and the uptrend starts, I'll know it's finally time to jump in.
At that point, we'll probably take a look at the New Ireland Fund (IRL). IRL invests at least 65% of its assets in Irish Equity. It invests the rest in companies outside Ireland that should benefit from improving economic conditions in Ireland.
Good investing,
Ian