Semiconductor stocks look bullish. Well, sort of...
For the first time in a very long time, the semiconductor sector is performing better than the overall stock market.
In fact, here's how the "semis" stack up against the major market indices for the past six trading sessions...
| | |
| --- | --- |
| INDEX | RETURN |
| Dow Industrials | -1.25% |
| S&P 500 | -0.63% |
| NASDAQ | -0.77% |
| Russel 2000 | -2.30% |
| Semi Index | -0.28% |
I know it's difficult to get too excited about a sector just because it lost less than the other guys. But the fact that the semi's held on to most of their gains yesterday while the broad market gave up the lion's share shouldn't be overlooked.
Fundamentally, the semiconductor stocks are as cheap as they've been in years. Take Intel (INTC) for example – the bellwether of the semiconductor industry. At $18 per share, INTC trades at the same price today as it did in 1997.
In fact, the sector is so cheap that two of the best value investors I know – Porter Stansberry and Dan Ferris – recently recommended semiconductor stocks for their newsletter subscribers.
But it's the technical picture that has me intrigued...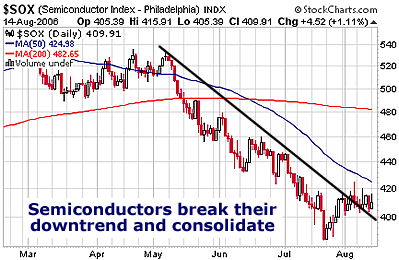 You can see how the SOX index dropped over 25% from its May high to its July low. But a few weeks ago, the index broke out of its downward trading channel and has consolidated that move for the past three weeks.
It looks like it's simply a matter of time – and maybe not too much time at that – before the sector starts a new uptrend.
The recent relative strength in the sector, the cheap valuations, and now the improving technical picture suggests it's time to start nibbling on the chip stocks.
And if the chip stocks look bullish right now, then it's hard to be overwhelmingly bearish on the overall stock market.
Best Regards & Good Trading,
Jeff Clark