On the wall of my office, I have a framed certificate for three shares of LA Gear common stock.
The shares are worthless, but I keep them on my wall as a reminder of Wall Street's love/hate relationship with fads. You see, I made a small fortune trading LA Gear stock back in the late 1980s. I then lost that small fortune by hanging onto the shares after the fad died down.
LA Gear made fashionable athletic shoes. The brand was introduced in the mid-80s and quickly became popular with the Southern California fitness scene.
There wasn't anything particularly special about the shoes. But if you wanted to be part of the "in" crowd, you had to be seen in LA Gear shoes. And Wall Street loved it.
I remember buying the stock around $4 per share and riding it as high as $40. At the peak of popularity, LA Gear expanded its product line and secured key endorsements from Paula Abdul and Michael Jackson (the two biggest pop stars at the time).
But like all fads, LA Gear shoes had a limited lifespan. The company fell on hard times, and the stock plunged all the way down to my original purchase price – where I finally decided to sell my position.
Eventually, LA Gear declared bankruptcy. The three shares that hang on my wall represent my cut of a shareholder class-action lawsuit settlement. Ironically, I received the shares shortly after they stopped trading.
There's no monetary value to my LA Gear stock certificate, but it is a valuable reminder of what happens to all fads on Wall Street. And it's something to keep in mind while looking at the recent action in Crocs Inc. (
CROX
).
Crocs shoes are all the rage among the "in" crowd these days. The colorful plastic shoes that were originally intended for boating have quickly morphed into a "must have" fashion accessory for 2006.
And Wall Street loves it...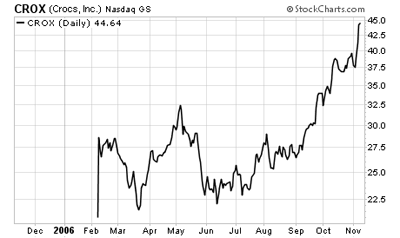 CROX shares, which came public back in February at $21 per share, are now changing hands at just about $45. That gives CROX a price-to-earnings ratio of just about 50. That's expensive, but it's nowhere near the dizzying valuations reached by most fad-induced stock promotions.
So CROX shareholders are likely to see even higher stock prices over the very near term.
But eventually, all fads go out of style. And when people finally tire of wearing pink plastic boat shoes, CROX shares are going to be a terrific short sale.
That'll probably happen at about the same time the company gets an endorsement from Paula Abdul.
Best regards and good trading,
Jeff Clark