Palladium, the redheaded stepchild of the precious-metals market, looks ready to make a major move.
Take a look at this chart...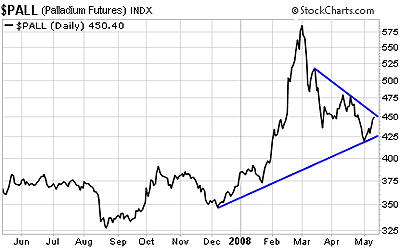 Palladium made an enormous run higher when it broke out above $400 an ounce back in February. As you can see, though, the chart went parabolic, gaining almost 50% in just one month. Moves like that never end well... Sure enough, the ensuing correction wiped out almost all of the gains and left investors feeling like they'd just stepped off the Giant Drop ride at a Six Flags amusement park.
Now, however, as most investors are grabbing their airsickness bags and swearing never to ride that roller coaster again, we can take a fresh look at the chart and explore the opportunity it presents...
The blue support and resistance lines are converging to form a consolidating-triangle pattern. When a chart breaks out of this pattern, the move is often quite large and usually equals the height of the triangle itself.
In the case of palladium, we're looking at the potential for a $125 per ounce move. So we could see the metal challenge its recent highs up around $580 per ounce... or we could see it collapse down to last September's low at $325.
Of course, we can't know for sure which way the price of the metal is going to break, but I'm betting on the upside.
Palladium's breakout over $400 back in February establishes solid support at that level. Odds are, if the price breaks down from the consolidating-triangle pattern, then buyers will step up, at least temporarily, at $400. So traders can take a position at current prices and keep a stop just under $400 per ounce.
The best way to play this trade is through shares of North America's only two palladium mining companies, Stillwater Mining (SWC) and North American Palladium (PAL).
Neither of these companies is a good investment on its own merits. Management stinks. Their fundamentals are shaky. And they both seem to be plagued by bouts of periodic bad news that keeps a lid on their share prices.
But in the short term, the stocks correlate well with the price of palladium. So if the metal is ready to make a run higher, then perhaps these stocks are ready to run higher, too.
Best regards and good trading,
Jeff Clark