Two years ago, making money was simple...
You just grabbed a newspaper, closed your eyes, and randomly pointed to a commodity... any commodity.
Crude oil, for example, is up 102% since January 2006 – impressive, but nothing compared to some of the other commodities...
The price of steel is up 139% over the same period, and corn has soared 192%. Nearly every natural resource on the planet has climbed to multi-decade highs.
But a few commodities are being left behind...
The price of hogs has barely inched its way higher in the last two years. In fact, it's risen by a measly 17% since the beginning of 2006. When you adjust for inflation, hogs are only up 9.9%.
So the prices of all commodities – and corn in particular – have soared, but hogs remain as cheap as ever.
Take a look at this chart...

The Price of Hogs Is Unchanged
Despite Soaring Feed Costs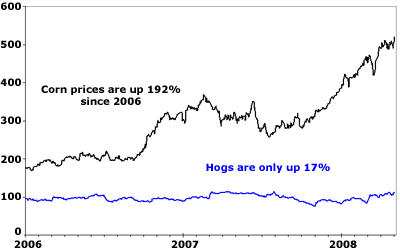 This chart compares the S&P Goldman Sachs Commodity Index (GSCI) live-hog index to the S&P GSCI corn spot index.
Hogs, like most commodities, went nowhere for 30 years. In 1977, hogs sold for about 55.5 cents per pound. Today hogs sell for only about 79 cents per pound. That's a rise of 42% in 31 years, or an annualized return of 1.1%... well below the inflation rate.
Why are hogs so cheap? One reason may be that an overabundance of cheap corn for decades led to an oversupply of hogs. According to the Iowa Farm Outlook produced by Iowa State University, corn accounts for about 80% of hog feed.
But now, the brutal combination of pricey corn, increased energy costs (for processing and shipping), and cheap hogs is wreaking havoc on hog farmers worldwide.
This trend cannot continue. Hog farmers are not running charities. When the input costs for hog producers soar, the price of hogs must also rise. By buying hogs, we are piggybacking (excuse the pun) on the uptrend in agriculture and crude oil.
So when the uptrend finally begins, how should we play it?
Well, as my colleague Tom Dyson pointed out in
this essay
, we have a few choices... You could go into hog farming, for example. Or if you have a futures trading account, you could buy hog futures directly.
An easier option is to buy one of the large hog producers like Tyson, Hormel, or Smithfield Foods. But as Tom pointed out, these aren't pure plays on the price of hogs.
Another choice is COW, a fund that tracks AIG's livestock index, which is 59.3% cattle and 40.7% hogs. Cows eat boatloads of corn, too, and like hog prices, cattle prices haven't nearly matched corn's gain.
Good investing,
Ian