The dead-cat bounce for gold shares has just about run its course...
In my
October 5 column
, I suggested gold shares were oversold and due for a bounce. Since then, the widely followed AMEX Gold Bugs Index (
HUI
) is up about 13%... and investors are getting excited again about a new leg up for the great gold bull market.
So that should just about do it for this rally.
There's one major problem with this bounce... gold shares are still underperforming the metal itself. Think about it: In just the past two days, gold is up $21 (3.5%) per ounce, while the HUI barely managed to gain 4 points (1.2%). During true gold bull rallies, the stocks lead the metal higher, and that's not what we have here.
What we have here is a bounce. A bounce that's about to come back down.
Take a look at this chart of the HUI...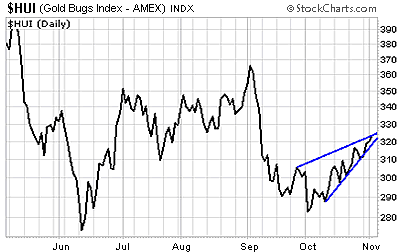 The action over the past month has traced out a "
bearish rising-wedge
" formation. This technical pattern nearly always breaks lower and retraces at least 100% of the preceding bullish move. So, we're looking at a potential decline back down to 280 or lower on the HUI.
Of course, there's a remote possibility that the index could break out of this wedge to the upside. That's a very bullish move, and could propel the index as high as 350 or so.
But since gold stocks are currently underperforming the metal, the odds greatly favor a move to the downside.
The other thing that bothers me about this gold stock rally is that investors are still way too willing to jump into gold shares.
You can get a feel for the sentiment surrounding gold stocks by visiting the Internet message boards of the major gold mining stocks like Newmont, Goldcorp, or Barrick. If you visit these boards today, you'll notice almost all of the posts are universally bullish toward gold shares.
It's odd to have that high a degree of optimism towards a sector that's 20% below its highs for the year... and still down 10% over the past two months.
And if all that isn't enough to turn you cautious on gold shares, then consider this...
My mom wants to buy gold.
So forget about buying the gold stocks here. In fact, if you have the intestinal fortitude to do so, the smart trade is to sell the sector short.
Just don't tell Mom I told you to do it.
Best regards and good trading,
Jeff Clark