It's time to check the health of the canary…
Shares of investment bank
Merrill Lynch
(
MER
) are Wall Street's version of the
canary in the coal mine
. As long as MER is acting well and chirping a happy song, then all is right with the world and bullish investors can stay the course.
But when MER starts falling, then it's a warning sign for the overall stock market.
If you take a close look at the following chart, you can see the canary is starting to cough...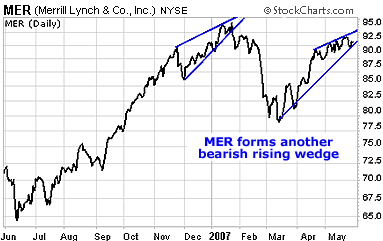 Most of the time, these patterns break to the downside. And, as you can tell from the sharp correction in February, the drop can be painful.
The action in MER was most notable yesterday. As the market averages rallied back from the opening selloff, MER had a tough time getting up off the pavement. The Dow closed up 111 points. The S&P 500 set a new record closing high. And the Nasdaq gained 20 points.
But Merrill closed in the red – down 18 cents.
Granted, the stock was down a lot more than that at the opening. So we could look at an 18-cent decline as a modest victory. But that's probably just wishful thinking.
MER leads the market. History has shown that if the market rallies without the participation of Merrill Lynch, then the gains are limited. MER's underperformance is a strong warning that it's just about time to get out of the shaft.
I'm not suggesting that you should liquidate your entire portfolio, move 100% to cash, and hunker down in the bomb shelter in your basement.
But it makes sense to take a few chips off the table here, maybe buy a handful of puts to speculate on the downside, and hold off on any large new investments until the canary is feeling a little better.
Best regards and good trading,
Jeff Clark