As the sun sets on All Hallows Eve, and the witches and warlocks roam the streets, Wall Street is treating the bulls to bags full of chocolate bars, candy corn, and rising stock prices.
The bears on the other hand, like Ichabod Crane racing through the forest on his midnight ride, are just trying to hold on to their heads.
Here's the most frightening chart in the market right now...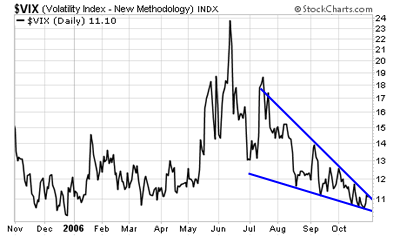 It's still too early to get overly aggressive on the short side. Bulls still have the momentum, and until the VIX clearly breaks out – which could happen as early as this week – it's best not to bet too heavily against the trend.
Chasing momentum from the long side, however, is also the wrong strategy right now.
Stocks enjoyed a fantastic month in October. The Dow, S&P 500 and Nasdaq gained 3.4%, 3.1%, and 4.8% respectively. But the market is starting to look a little tired. And, with nearly two-thirds of the S&P 500, having already reported earnings for the quarter, there just aren't that many new catalysts for higher stock prices.
I've been skeptical of the market's rally over the past month, and perhaps a little too cautious...
But with the semiconductor stocks continuing to lag behind the overall market, and with the VIX on the verge of breaking out to the upside, a little bit of skepticism is like an antacid on Halloween night. It's not as rewarding as a Snickers bar, but it'll prevent a painful bout of indigestion.
Be careful.
Best regards and good trading,
Jeff Clark