Last week
, I suggested that housing stocks might rally after the release of bad industry numbers. And, if you take a look at the following chart, you'll see that's exactly what they did…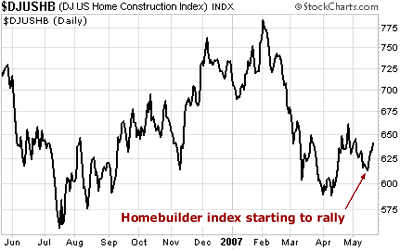 I know it seems ridiculous to recommend
housing stocks
when the sector is shrouded by bad news. But when you're looking to put new money to work in a market that's defied gravity for so long, you need to look for sectors that are least vulnerable to hitting
air pockets
– those sudden drops that happen out of nowhere.
We saw a good example of an air pocket back in February when the Dow dropped 400 points overnight.
In the early weeks of 2007, the stock market acted a lot like today. The Dow made new high after new high, and we rarely saw the normal ebb and flow of stock prices. It was just one straight shot higher.
Then the market hit an air pocket. The Dow dropped 400 points overnight, giving back all of the gains for the year in one trading day.
I wouldn't be too surprised if that happened again.
I'm not about to fight the momentum of this market, and I'm not ready to recommend buying puts just yet. But, for a number of technical reasons, there's probably only another week or two left to this rally. And it's best to stay conservative.
The stocks that will perform best in the correction are the stocks that haven't participated much in the current hysteria. That's where we'll find the housing stocks.
The sector is performing remarkably well in the face of really pathetic news. So, while the fundamental conditions for the sector have yet to improve, the technical picture is looking good. Really good.
And the technical picture for a stock almost always improves before we see improvement in the fundamentals. So when you have a sector that's immersed in a pool of bad news, and the stocks refuse to sink, then that's a good sign that the sector is sold out and you ought to consider buying the stocks.
I'm convinced the housing sector bottomed back in early April, and I wrote about it
here
. The sector is up about 8% since then, and there are much larger gains ahead.
Best regards and good trading,
Jeff Clark