Late Tuesday, America's drug watchdog served Dendreon an "approvable" letter for its novel prostate cancer drug
Provenge
. In other words, it wanted to see more data before handing over a commercial approval for the world's first cancer vaccine.
Dendreon has been living high on the hog since its stock tripled after a preliminary FDA committee gave the drug a tentative thumbs-up. But as I
outlined a month ago
, the ruling was littered with inconsistencies… and Dendreon was doomed to fail. The stock has tumbled close to 70% in two days.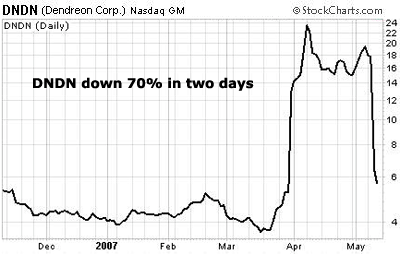 But there are two parties that have emerged from the bloodshed huge winners:
1. Short sellers

2. Dendreon's CEO – Mitch Gold
Perhaps the biggest "tell" that Dendreon's prospects were disaster-prone: Dr. Mitch Gold unloaded $2.2 million of his insider holdings just days after his company's stock skyrocketed. Those holdings would be worth less than three quarters of million dollars now.
Even after a conference call last night, Dendreon is reluctant to share details of the specific data the FDA is requesting. Our best guess is that the Provenge pause button will be in place for another two to three years until additional data from an ongoing Phase III trial is available. The company says this data could be ready in 2008, but a more realistic outlook is 2010 when the trial is completely finished. The FDA letter also called for more information on the drug's chemical manufacturing method, adding salt to the wound.
Dendreon has about $100 million cash in the bank. Costly clinical trials will quickly run this well dry. Existing Dendreon shareholders will surely face a dilution as the company seeks a new round of financing. Perhaps Dendreon should have followed its CEO's lead and raised capital at a $17 per share, rather than at $5, where it's sure to wallow for quite a while…
The lesson of the Dendreon story?
Biotech
is likely the most dangerous sector in the market for the average investor.
Sure, there's lots of money to be made on biotech. But it's imperative to be on the right side of the equation.
The committee's wishy-washy decision, CEO insider selling, and direct insight from our cancer vaccine contacts demonstrated the only side to be on regarding Dendreon was the short side… for now.
Is Dendreon worth anything? Sure. But, exactly how much remains to be seen. As we hear more about the specific data the FDA wants to see, we'll have a better idea.
In the meantime, we're heading back to chat with our experts at Johns Hopkins to gauge their opinion. Perhaps, at the right price, we'll jump on the other side of Dendreon.
Stay tuned…
Rob Fannon