For most of the past month, I've been on the lookout for a correction that hasn't come.
The Dow is up 25 out of the last 29 trading sessions. It's making new highs almost every day. Investors are throwing money into the stock market quicker than a Roger Clemens fastball. And it looks like there's no end in sight.
Amid all this euphoria, there are lots of warning signs. But why even mention them? It's like putting a stop sign on the freeway. Commuters might notice the sign. Some may even slow down a bit. But unless they see a cop on the side of the road, drivers are just going to keep whizzing on by.
So despite the warning signs in the stock market, investors continue their joy ride.
I'm certainly not going to tell you to pull over to the side of the road and take the keys out of the ignition. After all, there are still plenty of reasons to be bullish. Chief among them is the potential breakout of the
semiconductor
index.
But it's probably a good time to take your foot off the gas and keep a close eye out for hazards in the road.
Investing, as in driving, has two main styles. Invest one way, and you're like Miss Daisy sitting comfortably in the back seat, being chauffeured around on a sunny afternoon. Invest the other way, and you're zipping around on a suspended license.
At this stage of the game, momentum investing is a recipe for disaster. Sure, it's exciting – in the way that driving 80 mph on the shoulder of the freeway during rush hour is exciting. But the risks are much, much greater than the potential rewards.
Value investing
, on the other hand, is like tucking in behind the giant Winnebago driving 7 mph below the speed limit. It can be frustrating at times, and it may seem like you're going nowhere. But it's the safest place to be. You won't break any speed records, but you won't crash and burn either.
So what road should we take? Right now, it still looks like the best values are in the semiconductor sector.
As you can see from the following chart, the semiconductor sector is on the verge of breaking out to the upside of a six-year trading range...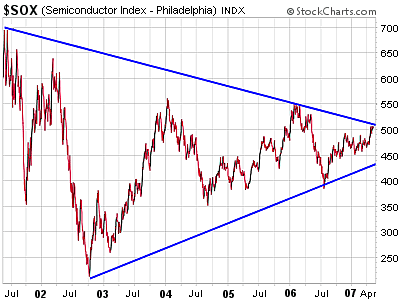 This is a very bullish development, and I'm convinced that semis are the best place to be for the next few years.
Subscribers to The Big Trend Report are sitting on pretty nice gains in each of the semiconductor stocks I recommended in March and April. I'm adding one more name in this month's issue, which comes out after the market closes today.
It's a low-risk stock that looks good fundamentally, looks great technically; and has an explosive new product that could lead investors to double their money over the next year.
Best regards and good trading,
Jeff Clark