Picking stocks in today's market environment is a lot like deciding what to eat in a Mongolian restaurant. There's plenty to choose from, but there's a little picture of a chili pepper next to just about everything on the menu.
This is one hot market.
The Dow is up 24 out of the last 27 trading days. Every day, lots of stocks are gapping up 10% or more in reaction to earnings or takeover news. And everyone is looking for the next hot tip.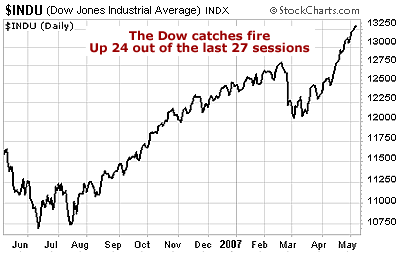 The problem, of course, is that too large a serving of spicy Mongolian beef can lead to a nasty case of heartburn.
I was reminded of this before the market opened last Friday as I watched the CNBC ticker tape run across the bottom of my television screen. Yahoo was up 5. Reuters gained 15.
Crocs
rallied 11. And on and on and on.
And then I opened an e-mail from a longtime friend...
"Help!" it started out, "I need to get into this market. I'm sitting on a 30% cash position and I have to put it to work. I'm tired of watching everyone else make money and I need a hot stock tip. Any ideas?"
My friend is 68 years old. He's retired and he already has 70% of his nest egg invested in the stock market. But that's not enough for him. He sees other people making money every day and he's frustrated that he's not maximizing his returns.
It's his focus on return that makes me worry. With the stock market making all-time highs daily, the return will take care of itself. My friend ought to be focused on risk.
But it never seems to work that way, does it? Investors listen to the daily market reports, see the stocks moving higher, and feel like they're missing out if they're not fully invested. So they crack open the piggy bank and throw every last dime into the stock market at precisely the time they ought to be taking some money out.
Admittedly, it's hard to sell stocks when other people are rushing to buy. It's like listening to everyone rave about the spicy dishes on the menu and then ordering from the "heart healthy" section.
I told my friend that I see the potential downside right now as much more than the potential upside… to sit tight and wait for a bit of a pullback before putting real money into the market. He probably didn't understand my reasons for that advice.
And diners often don't understand the downside of a spicy meal.
Well, until the next morning, that is.
Best regards and good trading,
Jeff Clark