Insiders don't think so. They're still buying.
Despite their sector having recently hit new highs, insiders in the industrial sector continue to buy shares in their own companies.
So far, industrials insiders have been one of the most bullish groups in the market, with stock purchases totaling $23 million in 2007. Surprisingly, the largest percentage of these buys took place in April, when the sector was soaring.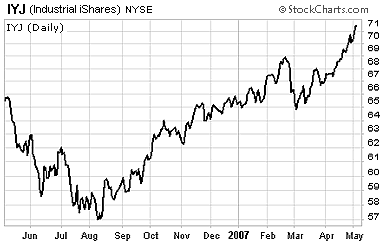 The industrial sector is comprised of any business generally associated with manufacturing. These companies are primarily machinery or equipment producers. On the whole, the industrials sector is closely associated with economic growth, since it provides the machinery for manufacturing. If manufacturers are experiencing a slowdown, they're not going to order more machinery.
Between the buying in this sector and the rampant buying we experienced in the materials sector in 4Q06, it's difficult to believe the doom and gloom surrounding the U.S.'s lackluster 1.4% GDP growth in the first quarter.
The S&P 500 actually rallied in the face of the weak GDP data. Typically, the market will forecast a recession well in advance. And the market continues to do nothing but go up.
The dollar
just hit an all-time low against the euro, energy prices are approaching their September 2006 highs, the U.S. economy is slowing... and yet the market continues to rise.
In particular, the industrials sector looks poised for greater gains in the next two quarters. Because of the short-swing profit rule, corporate insiders cannot sell the shares they purchase for a minimum of six months. So heavy insider buying usually presages a large market move by six months or more.
Seeing industrials insiders loading up now, when the sector recently hit a new high, is an extremely bullish indicator of future share performance. It's time to consider getting some exposure to the sector.
The following industrials companies have experienced a lot of insider buying in the last four months:
| | | | |
| --- | --- | --- | --- |
| Company | Symbol | Business | Purchases |
| Veri-Tek International | VCC | Machinery | $6.1 million |
| Presstek | PRST | Printing | $4.7 million |
| Dresser-Rand Group | DRC | Machinery | $4.2 million |
| Valence Technology | VLNC | Batteries | $3.9 million |
I'll profile one of these later this week. The insider involved is the billionaire founder. And both the chart and the insider transactions are predicting a share price jump soon.
Good trading,
Graham