Retail has been beaten, knocked down, and kicked in the teeth.
With housing prices falling, consumer spending dropping, and a potential recession looming, the retail sector has fallen off a cliff. Just take a look at the retail ETF.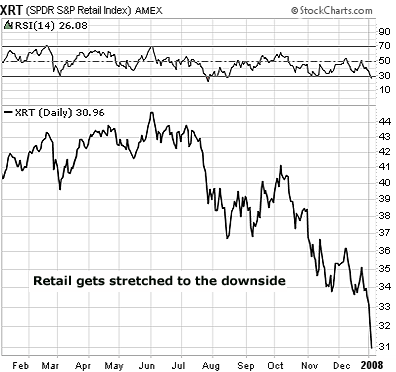 As you can see, the sector has been heading down since early July, when the credit crunch began raising concerns over consumer spending. But things didn't get truly awful until last week. And the reason they didn't get truly awful was the holidays.
Industrywide, the holidays (from Thanksgiving to New Year's) make up 25% of annual sales. For some specialty retail companies, like Barnes & Noble, the season can bring as much as 36% of revenue.
Things looked decent for the month leading up to Christmas. Sales for the period between Black Friday and December 24 increased 3.6% compared to the same period last year. However, in 2006, year-over-year sales growth for the same period was 6.6%.
Retailers tried to compensate for the slowdown by lengthening store hours for the final week of the year, hoping consumers who received gift cards would come looking for bargains.
But even with the longer hours and $26.3 billion in gift-card purchases, it doesn't look like retailers are going to make expectations. Last week, analysts hit the retail sector with a slew of downgrades, pushing the already struggling stocks even lower.
And investors overdid it yet again.
As the above chart shows, the retail ETF's relative strength index (RSI) is now below 30. The RSI measures the magnitude of gains versus the magnitude of losses. Historically, an RSI of 30 indicates that an investment is oversold. In contrast, an RSI of 70 indicates it's overbought. Right now, the retail ETF is way oversold.
Retail companies will start announcing their December sales next week. With retail's RSI so low, the stage is set for a bounce.
Stocks never go straight up or straight down... No matter how dismal their long-term outlook is, retail stocks should turn up sometime in the next couple weeks. The market has already discounted a horrible future for the sector. Even a small positive surprise could result in a pop.
But now's not the time to jump in. Instead, watch retail stocks closely over the next week as they announce December sales. If they refuse to fall on bad news, or better yet, actually surprise investors with better-than-expected news, I think the sector could easily see a quick 5%-10% gain.
Good trading,
Graham