The bull market in copper has created a bull market in something else... grand larceny.
Thieves are stealing copper wire from billboards. Take a look: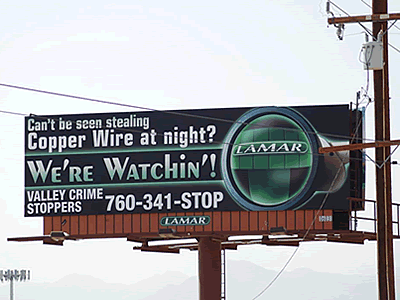 So if you want to make money in the copper bull market, then you have three choices. You can:
Buy copper stocks – which have had a great run and are now extended and carry a good deal of risk.
Steal copper wire from billboards – which will earn you a jail sentence of five to 20 years.
Or, you can short shares of Lamar Advertising (LAMR).
Lamar operates 150,000 billboards in the United States and Canada. The stock trades at a whopping 145 times earnings. It carries an enormous debt load. And now it's a prime target for thieves.
Theft of copper wire must be a big problem for Lamar if the company is willing to take up valuable advertising space to warn would-be thieves.
This can't be a good development for the stock as it heads into its earnings announcement next week.
I've played the downside on Lamar before – and it's definitely not an easy game. S&A Short Report subscribers bought puts on LAMR just before its last earnings announcement. We managed to pull out a profit, but it was one of the most stomach-wrenching trades I've done in years.
LAMR fell short in earnings and revenues, and shares initially moved lower on the news.
But the stock caught a bid, and LAMR actually rallied over five points and posted a new high. That's a remarkable development for a high-priced stock that misses earnings estimates... and it reeked of manipulation.
We held onto our puts. Within a few days, the stock traded sharply lower, and we were able to exit the trade for a profit.
Even though it was profitable, the experience was so frustrating that I swore off the idea of trading LAMR ever again.
But I'm rethinking that decision.
There's just no logical reason for the stock's valuation. The stock is absurdly priced. The company consistently misses earnings forecasts. It misses its growth rates. And now it's missing copper wire.
Thieves have discovered a unique way to profit off of Lamar. Maybe next week short sellers will profit off of it, too.
Best regards and good trading,
Jeff Clark