In your heart, you know you're an oil bull.
I know you are... and it's not just because you didn't trade in the Chevy Tahoe for a Honda FIT... or that you haven't found the time to install those solar panels on the roof.
I know you're an oil bull because the Powershares WilderHill Clean Energy ETF (PBW) tracks the price of oil... and it's tanking.
This fund contains leading alternative energy firms like Evergreen Solar (solar cells), SunPower (solar), and Plug Power (fuel cells). If you and I were truly interested in green energy, those shares would be up big.
Instead, as the price of oil falls, investors see green energy as the latest fad and dump the stocks. In fact, I believe the clean energy ETF is a good barometer of the market's feelings on Peak Oil as well. As you can see from this chart, people just aren't convinced that green energy is worth a long-term investment: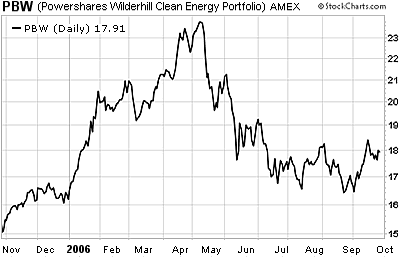 Ergo... they believe oil is the long-term answer.
Right now, the barometer says people believe light sweet crude will remain the gold standard of energy. Following that line of reasoning, the recent downturn in oil and gas prices is a great investment opportunity...
If you believe that, then you need to know this – major oil companies returned between 15% and 20% annually over the last five years.
I think there are plenty more gains ahead for the world's best, blue-chip majors. I'd stick with these giants... they're the most deserving of your oil investment dollars.
As for oil speculations... I recommend finding smaller oil companies with large proven reserves of light sweet crude.
As more companies exploit the larger, easier to find tar-sand and sour-crude deposits, those with reserves of light sweet crude will command a premium price.
You may lose your shirt in "green" stocks, but if you stick with the majors and uncover a few small gems, there's still plenty of money to be made in oil.
Good investing,
Matt Badiali