Back in early August, we recommended a pairs trade: Go long on homebuilders and short subprime lenders.
Our logic was simple. Homebuilders had been beaten to smithereens in the preceding eight months. Publicly traded building stocks like D.R. Horton (DHI), Pulte (PHM), and Beazer Homes (BZH) were about as hated as stocks could get, and were due for a rebound.
Simultaneously, the financial side of the housing boom, the subprime mortgage lenders, had yet to feel any pain and were set for a correction.
I laid out a scenario of buying Pulte Homes (PHM) and shorting Countrywide Financial (CFC): the two 800-pound gorillas in the homebuilder and subprime lending industries, respectively.
Simply put, it was time for the market to stop beating up the tangible side of the housing market, and move into the intangibles.
So how'd it go?
The Fed stopped raising interest rates in early August, which kicked off a rally in both sectors. However, the homebuilder stocks posted the largest gains.
The Dow Jones Home Construction Index kicked off a two-month, 20% rally on August 14: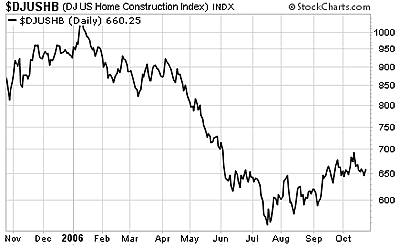 In the last couple of weeks, homebuilder stocks have begun cooling as the sector posted disappointing 3Q06 earnings. Wall Street, as usual, is focusing on the near-term situation here. Is there a slowdown in the housing market? Yes. Will homebuilder stocks resume their fall? Maybe. Is housing doomed? Hell no.
Think about this: Homebuilding leaders D.R. Horton (DHI), Centex (CTX), and Pulte Homes (PHM) have all been in business for decades.
They've seen both boom and bust before. And all three stocks are trading at single-digit multiples. Sure, business will be slower in the coming years... but four times earnings? Give me a break.
As for the subprime lenders... that sector bottomed out in late August before rallying through mid-October. However, the rally wasn't as strong as that of the homebuilders.
Countrywide Financial posted its 3Q06 results yesterday. Revenue grew by a mere 2%, significantly below expectations. The reason for this drop? A 22% drop in mortgage lending. Countrywide is countering the trend by cutting 2,500 jobs, or 4% of its work force. This comes on the tail of an 857-person layoff in 2Q06.
It's becoming a sector trend: missed estimates and workforce cuts. Ameriquest and Washington Mutual have already employed similar measures to counter a slowdown in home loans.
We went long homebuilders and shorted subprime lenders. Homebuilders rose 20%, subprime lenders rose 10%. So we ended the trade up 10% in two months' time. (Even better – Pulte was up 12%, and Countrywide fell about 3%, making for a 15% gain.)
So what's the future of this trade? Expect more of the same action.
Good investing,
Graham