I'm growing more and more bullish on retail stocks.
The consumer discretionary, materials, and finance sectors accounted for 69% of corporate insider purchases in October so far. Finance has been seeing big insider purchases for the last two years, so its presence is nothing spectacular.
However, the consumer discretionary sector only hit my insider trading radar in the last couple of weeks. This sector is the domain of your weekend shopping trip, containing stocks like Starbucks, Target, Disney, and McDonald's. In other words, the stocks that suffer when investors are worried about a recession.
Since insider purchases usually precede market moves by six months or so, a wave of insider purchases in a sector typically heralds an upcoming trend. I'm seeing one of those waves in the consumer discretionary sector.
Insiders at retail stocks are particularly bullish right now. In the last 13 weeks, there were 21 retail stocks with insider purchases and 64 retail stocks with insider sales.
Now this ratio of retail bulls to retail bears (1:3) may not seem particularly bullish to you. But historically, the rampant use of options in executive compensation keeps this ratio at 1:10... or even higher.
It's clear that corporate insiders are banking on this year's holiday season being a blockbuster. Many of these stocks have sold off on consumer-spending fears... and I believe the insiders see value the market is missing.
There are a couple ways to play an uptrend in the retail sector.
The broadest bet here would be to invest in the Powershares Dynamic Retail ETF (PMR). Top holdings in this fund include Nordstrom, Sears,
J.C. Penny
, and Best Buy. As you can see in the chart below, this fund is in a strong uptrend, having hit a new 52-week high last week.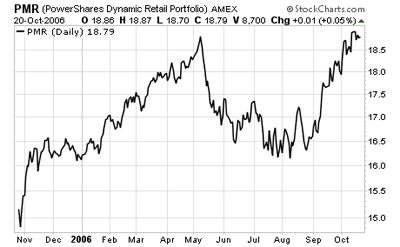 The alternative (and potentially much more profitable) route is to invest in specific retail companies with heavy insider buying. I recently added one such company to my Inside Strategist portfolio.
Despite huge returns on equity, heavy insider buying, and double-digit revenue growth every year for the past 10 years, this company is selling for a bargain-basement 11 times cash flow.
Three more retails stocks to put on your watch list are Pep Boys (PBY), Sears Holdings (SHLD), and Cost Plus (CPWM). Corporate insiders in these stocks are betting on a happy Christmas.
Good investing,
Graham