Here are my first thousand words: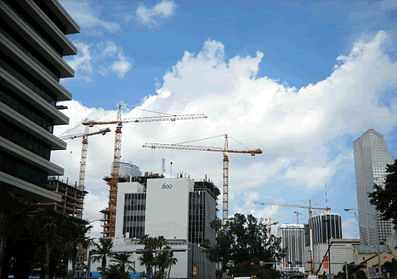 Practically every other block in downtown Miami looks like this picture, taken through the sunroof of my car last Thursday.
I first noticed a dozen or so construction cranes while driving towards the city along its famous Cuban street, Calle Ocho, in the heart of Little Havana. However, by the time I had arrived in the city, that dozen or so had multiplied several times. It would be no exaggeration to say that there were 30 to 40 construction cranes within a mile of each other in downtown Miami.
Their purpose? Building condos.
The Miami condominium market is the hard evidence of the real estate boom. It's a real estate craze that astounds beyond first impressions. For example, on first impression, you probably see three or four cranes in the above picture. There are actually six.
The city is besotted with concrete foundations in various stages of development. Only a handful of these would be complexes even have structural frames above a few stories. For the most part, foundations have been laid, and little else.
In the lower right hand corner of the image, you can barely see a bus stop. While sitting at the stoplight, I noticed an advertisement on the side of the terminal. It read, "Wanted: well built, tall companion." It wasn't referring to a dating service... it was an advertisement for Yovani Garcia's condo real estate office.
I spoke with Yovani on Friday morning. I'll tell you more about my trip and our conversation in part two of this essay on Wednesday. Until then...
Good investing,
Graham