How many times have you asked yourself, "If I only knew then what I know now..."?
Think of all the bad decisions you've made in your life. Now imagine you could go back in time and make decisions based on all the new information – all the knowledge – you've accumulated over the years. It would change your life dramatically.
Unfortunately, most of the time, we only get one chance to make a decision...
But when it comes to the stock market, well, that's a different story.
Stock price patterns tend to repeat. What happened yesterday will likely happen tomorrow. Smart traders know how to take advantage of that.
For example, the stock market crash in October 1987 turned out to be one of the best buying opportunities of our generation. We didn't know it at the time – and nobody I know was buying stocks on that day. But a few months later, we all wished we did.
So when a similar opportunity presented itself during the mini-crash of October 1989, many of us jumped in and started buying. It was our "second chance."
Today, the oil sector is giving us a second chance.
Think about it this way... If you had the opportunity to go back in time to last October and buy oil stocks, would you do it?
Unless you have an unnatural aversion to making a lot of money, then answer has to be "yes." Of course, you'll want to sell in May... but we'll get to that in a moment.
If you had bought shares in the Oil Services ETF (OIH) in October '05 and sold them in May '06, you would have scored a gain of 60% in just over six months. That's an amazing trade. I know you're probably thinking that the oil-stock rally was a unique situation caused by an unnatural spike in the price of oil...
But you'd be wrong. It happens every year. Just look at this long-term chart of the OIH...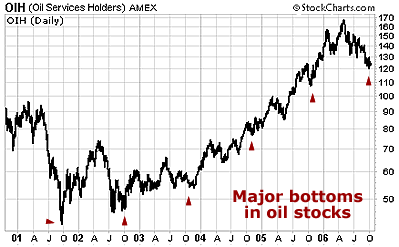 Notice how the sector puts in a major bottom in October every year... then notice how the sector puts in a top around April or May each year.
So the obvious question is... "Knowing what you know now, should you be buying oil stocks today?"
I am. In fact, I buy oil stocks every October, and I always sell them the following May. It's one of the most persistently successful trading strategies I've seen in my life.
Of course, even though oil stocks always seem to bottom in October and then rally strongly through May, we don''t have a guarantee it will happen in the future.
But with sooooo many oil stocks trading at less than 10 times earnings, you'll find few other speculations that offer so much potential with so little risk.
Best regards and good trading,
Jeff Clark