Back on March 22, I showed you a chart of the
Natural Gas Index
(XNG). The index had just broken to the upside of a consolidating-triangle pattern, and I wrote, "It doesn't get any better than this."
Here's an updated chart...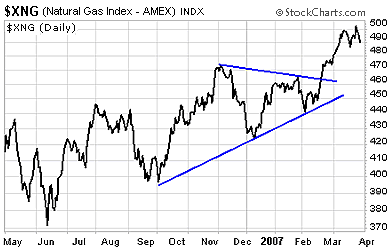 Oil and natural gas
stocks have had a terrific run. If you took my advice back in mid-March, then you're sitting on some pretty nice profits. Now it's time to take those gains off the table.
The sector is extended, and we're quickly entering a seasonally weak time of year for these stocks. There may be a bit more upside remaining, but the majority of the bullish move is now behind us.
Here's a chart of the bullish percent index for the energy sector. It's a terrific measure of overbought or oversold conditions...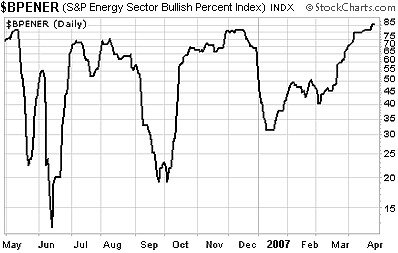 The best time to buy energy stocks is when the
bullish percent index
is down at 30 or below. At that level, the stocks are oversold, and further downside is limited. Right now, though, the bullish percent index is above 85. That's an overbought reading that typically leads to swift corrections in the sector – at least it has over the past few years.
You certainly shouldn't be buying natural gas stocks at current levels. And selling them makes a lot of sense to me. In fact, just yesterday, we took another profitable trade off the table in the S&A Short Report.
I'm not bearish on natural gas stocks, and I'm not advocating short positions. But right now, the risk in the sector outweighs the potential rewards. And there's no harm in taking a few profits.
We'll keep a close eye on the sector's bullish percent index. When it drops back down to about 30, then we'll look to jump back into the gas trade.
I'll let you know when that happens.
Best regards and good trading,
Jeff Clark