Like a golfer who plucks a few blades of grass and then tosses them into the air to check which way the wind blows, traders can check the direction of the market by following semiconductor stocks.
If the chip sector is acting well, then the broad market is poised to rally. If the chips are behaving poorly, then investors should be cautious.
So, as all the happy folks on CNBC are dancing on the floor of the New York Stock Exchange and singing, "Dow 12,000 here we come!" we can't help but notice a strange wind blowing.
The Dow rallied to a new all-time high, and the S&P 500 is at its highest point of 2006. But as this chart of the Philly Semiconductor Index shows, semiconductor stocks are lagging noticeably behind...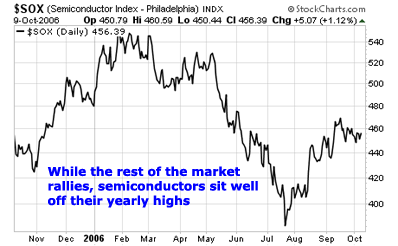 In fact, the chips are just about 20% below their highs from January. The Philadelphia Semiconductor Index – which tracks more than 40 semiconductor stocks – has been trading lower for most of the past month, while the Dow and S&P have powered to new highs.
A good, strong rally in semiconductor stocks would wipe out this negative divergence, and allow us to watch Bob Pisani and the rest of the CNBC gang waltz across the NYSE floor a while longer.
Otherwise, the band will stop playing, and the weakness in the chips will lead to a fairly sizeable correction in October.
If last week's 13% plunge in chip leader Micron Technologies (NYSE: MU) is any indication, it looks like we're in for a difficult month.
Best regards and good trading,
Jeff Clark