In today's essay, I'm going to tell you about a new era of gold mining.
This type of mining has no exploration costs. It requires no digging or drilling. The mineral veins are incredibly consistent and yield 29 times more gold than the average mine.
You could call it e-mining.
On average, one ton of rock from a gold mine yields around 0.18 ounces of gold. One ton of discarded mobile phones, on the other hand, contains about 5.3 ounces of gold (according to a study done by Yokohama Metal, a recycling firm). Cell phone manufacturers like gold for its conductivity and malleability.
That same ton of phones also contains, on average, around 100 kilograms of copper, three kilograms of silver, and a slew of other metals.
Right now, recycling, and especially recycling "e-waste," makes up a small portion of the waste disposal business. For example, recycling only accounted for 9.8% of first-quarter revenue at Waste Management (the largest U.S. waste disposal company). Most of that recycling revenue came from processing corrugated cardboard and newsprint.
However, the e-waste niche has a lot of growth potential. High metals prices are making it economical to sort all of this stuff out. Currently, in the U.S., less than 20% of e-waste is separated from other trash for processing and recovery.
Actually, all types of "processing and recovery" have a lot of growth potential. The "green" movement – with leaders like Al Gore and Ted Turner – has never been stronger.
So today, we're going to look at the waste sector. As you'll see, the potential growth in recycling is the latest revenue stream in a very consistent industry.
The following chart shows the performance of the waste disposal sector since 1973, including dividends.
Waste & Disposal Stocks Have Underperformed Since 1990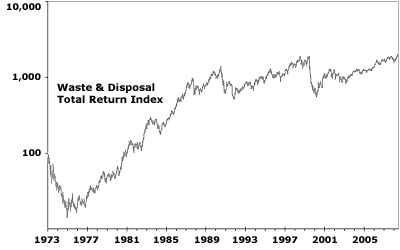 As you can see, the latter half of the 1970s, and all of the 1980s, was a great time to invest in waste collection. If you had invested in the sector between 1975 and 1990, you would have made a 32.6% a year, including dividends. By 1990, Waste Management sold for 80 times earnings.
Since then, the sector has struggled. If you had invested in waste collection between 1990 and today, you would have earned just 3% a year, including dividends. I guess the waste industry ran too far too fast. And waste disposal lacked the "tech" story everyone wanted to hear back then.
But today, the public is much more willing to fund environmental protection than 20 years ago. Countries like Brazil, Russia, and China are getting richer, which means more money to spend on cleanup. Global warming is all over the news. And as I explained, e-mining is attractive due to high commodity prices...
As you can see from the chart above, waste has been in a nice uptrend since 2003. Also, the valuations for waste companies are back to reasonable levels. The Datastream Waste & Disposal index has a P/E of 19.4... which is a bit less than the overall market.
You have a few options if you want to invest in waste companies. One is buying the big players, including Waste Management (WMI) and Republic Services (RSG).
Another option is the Market Vectors Environmental Services ETF (EVX). This fund tracks the AMEX environmental services index, which is loaded with companies that e-mine, haul garbage, manage sewers, filter water, and do all things related to cleanup. If you're looking for a typically boring, steady business with a few hi-tech kickers, this one is worth a look. Or at least see how much those old cell phones are worth.
Good investing,
Ian