This time it wasn't the canary that signaled the stock market was ready to turn around. It was the canary's ticks.
I've often referred to shares of Merrill Lynch (MER) as Wall Street's version of a
canary in a coal mine
. The short-term action in MER frequently signals whether or not it's safe for traders to venture into the stock market.
So on Tuesday, as the market continued to sell off and as major indexes approached key support levels, I was watching MER. The shares were down sharply on news of an $8.5 billion stock offering, the writedown of another $10 billion in assets, and the sale of roughly $30 billion in collateralized debt obligations for 22 cents on the dollar.
MER opened down just 10 cents on the news. But then the sellers took over. By the end of the first hour of trading, MER was down more than 8%, and the canary was looking ill.
But the option traders, those speculating little parasites who feast on the volatility of stocks, weren't reacting the same way. Despite MER trading down more than $2 to about $22.50 a share, the MER August 25 puts (MERTD) – which bet MER shares will sell for less than $25 in about a month – were basically unchanged on the day. They should have been climbing.
And most of the call options were only down a small fraction. They should have tanked.
In other words, the option traders were much more optimistic about the health of the canary than the folks trading the stock.
Just as the action in MER can often give clues to the short-term direction of the stock market, the action in MER options gives clues to the short-term direction of MER shares. The canary's ticks may be a better indicator than the canary itself.
Sure enough, the market gained its footing and started to rally. Merrill reversed its 8% loss and closed with an 8% gain. And the Dow finished up 266 points.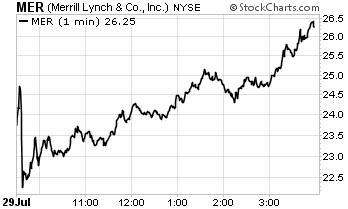 The parasitic option traders were right.
Stock traders are always looking for an edge when it comes to picking turning points in the stock market. For years, I've relied on the canary to help lead the way.
From now on, I'll be watching the canary's ticks, too.
Best regards and good trading,
Jeff Clark