I'm writing to you from Vancouver, British Columbia – the center of the universe for North America's junior mining companies.
These tiny companies generally have market caps under $200 million and trade on the Toronto Stock Exchange's Venture Exchange. The Venture Exchange is an alternate market for small, thinly traded stocks. And it's had a tough year or so. Take a look...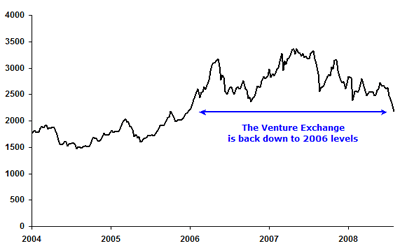 As you can see, these stocks went into a bear market about a year ago. The real downward trend began November 2007, when gold was still under $800. Now those mining stocks are much, much cheaper... and gold is much more valuable.
But as legendary commodity investor Rick Rule pointed out, about 80% of the stocks on the Venture Exchange aren't worth the paper they're printed on. You can make a lot of money here, but you need to know what not to buy. And you need to manage your risk.
That's the philosophy we use in my monthly newsletter, The S&A Prospector. When you analyze stocks that have no earnings and few assets, you need to take a unique approach. Here are a few of my criteria...
First, management's experience is crucial. You want to own companies run by geologists who have worked on previous discoveries. You don't want to own companies with inexperienced management. You're paying their tuition.
Second, you need to know about the cash and expenses of the company. I call that the bankroll and the burn rate. If the bankroll isn't bigger than the burn rate, the company will have to go to the market for more cash. The only thing the company has to offer the market is shares at a discount to the current price. That means it will print off lots of new shares, driving down the value of all shares. That's bad for you.
Third, you need to know the what and the where of the exploration program. Find out why the company is looking in the place it's looking. Management should have a clear, concise, geologic premise for what it's doing. If the company is looking for gold in Florida because the company's owner inherited land there... you're in trouble.
If you want to speculate in
small mining stocks
, you absolutely need to develop and apply screening criteria. Don't fall for the stories, stick to your rules, and throw out at least eight out of every 10 companies you look at. If you do that, you'll wind up with a small... and growing... pile of gold.
In The S&A Prospector, I'm putting together a short list of "elite" junior miners. I'm going to track those stocks and look for an uptrend. We're going to get in cheap and hold on. When the market turns, it'll go to the moon...
Good investing,
Matt Badiali