Gold stocks are poised for a dead cat bounce – but that's all it'll be.
If you take a dead cat and throw it off the top of the Empire State Building, it will bounce after it hits the ground... at least that's the theory.
Wall Street applies the same theory to stocks that have fallen several stories as well. Eventually, stocks that have suffered a huge decline eventually bounce back a bit. And traders, being traders, describe that action as a "dead cat bounce."
Gold stocks definitely qualify as stocks that have fallen too far too fast, and we're likely to see a few golden cats bouncing in the next few days. So, nimble traders can probably scalp a decent trade from the long side. But don't overstay your welcome. Dead cats don't stay airborne for too long before falling back to the ground.
Fortunately, the ground isn't too far below current prices.
The Gold Bugs Index (HUI) is awfully close to achieving the downside price target I told subscribers about after the sector peaked in May. With any luck, we'll drift down to that target within the next few weeks. That weakness should give us a real opportunity to buy gold stocks for the long term.
For now, however, investors are still a little too willing to jump into gold at the first sign of a turnaround. And that's still a reason to be cautious.
But we're getting close.
Take a look at the following chart that compares gold stocks to the gold metal itself...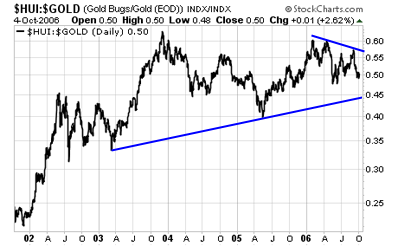 When the chart is moving higher, it tells us gold stocks are outperforming the metal. That's the best time to be invested in the sector. When the chart is moving lower, gold stocks are lagging and it's best to sit on the sidelines.
Right now, stocks are lagging the metal – and they have been since May. But you can see we're not too far from the support line of the lows reached back in May of 2003 and June of 2005. Both of those points coincided with major lows in the gold stocks... and the beginning of massive rallies for the sector.
You'll know a bottom is in when the gold stocks start outperforming the metal. Ideally, I'd like to see a day where gold falls $15-$20 overnight, but the gold stocks trade flat or even rise on the day.
When that happens, it'll be time to buy gold stocks and hold on for the next big phase of the Great Gold Bull Market. I'll keep you updated.
Best Regards & Good Trading,
Jeff Clark