Every college party has three stages:
Stage One: The keg has arrived. The hosts are eager and excited. Guests have begun to trickle in. The house still looks like a house.

Stage Two: The house is swollen with drunks. The beer has begun to run out. The hosts are now either manic or nervous. Guests continue to arrive in droves.

Stage Three: The cops show up. Guests scatter. The bleary-eyed hosts have to explain themselves. The house looks like a war zone.
Over the last five years, corporate boards at tech companies have been hosting some of the best parties in the US. All you needed for admission was an executive title. And the booze was a truckload of backdated options. So the next morning you woke up with options dated at the cheapest price possible, rather than with a hangover.
The only problem is... somebody called the cops.
As of August 31, the SEC was investigating 117 companies for options backdating. If you're unfamiliar with the practice of options backdating, it's when an executive gets to choose which date he receives his options grants. Imagine if you could look over a stock's share price for the last year and choose which date to buy shares, and you get an idea how sketchy the practice is.
Tech firms are notorious for passing out options like Hare Krishnas pass out flowers at airports. So it's little surprise that the tech sector, more than any other has become embroiled in the options backdating scandal. Apple, Applied Micro Circuits, Broadcom, Comverse Technology, Juniper Networks, and Nvidia, are on the list.
The scandals have already cost shareholders more than $7.9 billion in market value, according to Bloomberg. For those of us who have grown increasingly bullish on tech in the last six months, this kind of legal uncertainty could well create another buying opportunity in some of the biggest names in tech.
Take Apple for instance...
Looking at Apple's one-year chart, you see a stock that has been in a strong uptrend since July, breaking through both its 50- and 200-day moving averages with ease.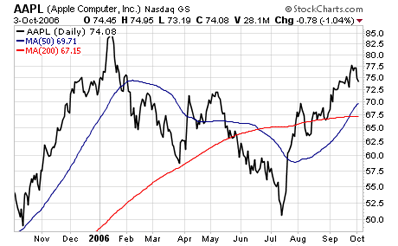 The options backdating scandal went public in late June. It's clear Apple shares recovered just fine from the bad news. However, the analyst downgrades and delinquent filings of August took a serious bite out of the share price. The same drop occurred this Monday when Citigroup downgraded its outlook for Apple.
This kind of volatility stems primarily from one main issue: legal uncertainty. No one knows what Apple's punishment will be for the backdating. Executives at other tech firms have resigned. Apple CEO Steve Jobs did receive a backdate grant, but it was later cancelled, and he didn't make a dime.
Aside from the share price roller coaster of the last three months, the backdating scandal won't really hurt Apple shareholders. The company would have to have granted hundreds of millions of dollars worth of options to have any impact on Apple's business. Options backdating, while morally reprehensible, only screws up a company's business if the discrepancy in options expenses is enough to change its reported financial statements.
Nearly every chart I looked at amongs the tech companies involved in the scandal was identical. All remain in an uptrend, but are experiencing a cooling of investor sentiment. So in the near term, we should see a continued correction in tech stock share prices. However, I'm forecasting that by mid to late October, the tech rally will have regained its steam.
The party may be over for tech company executives, but for tech investors, it's just beginning.
Good investing,
Graham