The big picture is still just as ugly as ever. But the short term is shaping up for a rally.
Here's an updated version of the monthly chart of the S&P 500 plotted against its 20-month exponential moving average...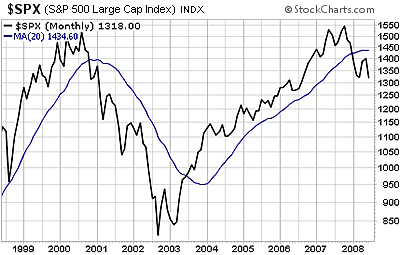 This is a simple chart to read. If the S&P 500 is trading above the line, then we have a bull market. If the index is below the line, then the bear is in charge.
I first showed you this chart back in November and warned you stocks were on the verge of rolling into a bear market. Since then, it's been a pretty good roadmap for navigating this turbulent stock environment.
If the bear market of 2001-2003 is any sort of a guide, it's going to be a tough road ahead. But first, we're in for a little detour.
Take a look at this daily chart of the S&P 500...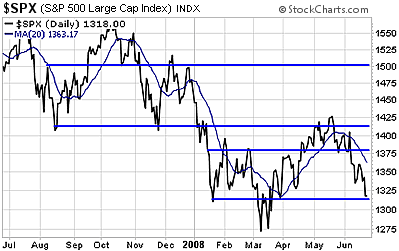 The blue horizontal lines represent various support and resistance areas. As you can see, following last week's horrendous performance, the S&P is sitting right on top of support. It's possible stocks will break down through support and retest their March lows, but I don't think it's very likely.
The odds favor a rally.
Traditionally, the last five days of the month and the first five days of the next month tend to be bullish. We're entering that period right now. Also, stocks tend to perform pretty well around the 4th of July.
Finally, the S&P 500 is just over 30 points below its 10-day simple moving average (SMA) – the squiggly blue line on the chart. The 10-day SMA acts like a magnet for the S&P 500. The index rarely strays more than 30 points above or below the line before reversing course and coming back toward it. So stocks are due for a bit of a bounce, if only to get back up to the line.
Of course there's risk buying into a downtrending market. But we have a few reasons to expect a solid bounce over the next couple of weeks. Traders should use any additional weakness today and tomorrow as a short-term buying opportunity.
Best regards and good trading,
Jeff Clark