Back in the day, cigarette smoking was a respectable business.
In the 19th century, Philip Morris was a luxury cigarette company and had one tiny, boutique shop on London's Bond Street.
In 1901, by royal warrant, Philip Morris & Co. became the royal tobacconist to King Edward VII… and with success came growth. Just one year later, the company expanded its business to the United States.
In 1938, the company went public… and investors have been reaping the rewards ever since.
Between 1957 and 2007, Philip Morris was the single highest-returning stock in the United States. A $1,000 investment in Philip Morris in 1957 would be worth about $5.8 million today.
Although Altria's returns are the best in the business, other tobacco companies have performed almost as well. Even today, amid declining smoking rates in the U.S., tobacco companies continue to outperform other equities.
Take a look at the performance of the Datastream Tobacco index since 1973. As you can see, the index has maintained an amazingly consistent 15% annualized growth rate for most of its history.
And more importantly right now, downturns in the tobacco sector do not seem to correspond with market downturns.
Tobacco Is Alive and Well in the U.S.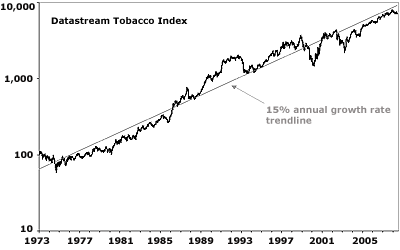 I'm not saying tobacco companies can't correct… In 1999, the tobacco index fell by a precipitous 60%. But the stocks were back at new highs a year later…
The fall came after the index was selling for a relatively high 23 times earnings. The companies had settled a number of lawsuits in 1998, and investors were optimistic. After an adverse court ruling in Florida, the index fell down to a P/E of 6.1.
The constant risk of litigation is why this sector is usually so cheap, with a median P/E of 13. But right now, it's relatively pricey…
Although well below all-time highs, the tobacco index is selling for 15 times earnings (18% above its median). Investors are probably bidding these stocks up, cashing in on their reputation for being a safe haven in a tough market.
With these valuations, I wouldn't hop on tobacco right now for a short-term trade. But as you can see, the sector has always been a good long-term hold.
Good investing,
Ian Davis