While the market has done nothing but chop back and forth over the past couple of weeks, natural gas stocks have been on a tear.
Many of the stocks in the sector are up 10%-15% over just the past few trading sessions. But now it may be time for a break.
Let me explain...
Natural resource stock prices tend to lead the price of the underlying resource. In other words, gas stocks rally first, and then gas goes up... gold stocks rally first, and then gold goes up, and so on.
Last week, I wrote about the
breakout
in natural gas stocks. So it's really no surprise that natural gas broke to the upside yesterday...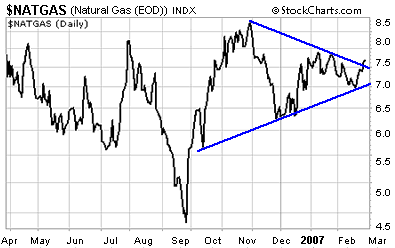 This is a bullish breakout of a five-month consolidating-triangle pattern, and it signals higher prices for natural gas over the next few months. But we'll probably see a few days of lower prices in the stocks themselves.
Natural gas stocks were weak yesterday. That might be the result of an overall weak stock market, or maybe the stocks are just consolidating their recent gains. Either way, the stocks' less than stellar performance in the face of a breakout in natural gas signals the start of a brief correction period.
In the S&A Short Report, we took advantage of this yesterday by locking in a 50% gain on calls we purchased on a large natural gas producer four weeks ago. We're still sitting on gains of over 40% on a three-week-old position. And we're up 35% on the calls we recommended this past Monday...
And there are much bigger gains ahead.
I think any weakness in the sector over the next few days is a buying opportunity. The sector is cheap. It's unloved. And, when the stocks start moving again, underinvested institutions and hedge funds are going to pile on like five-year-olds on a busted piñata.
Be sure you're in position before that happens... the opportunity here is too good to pass up.
If the sector behaves like I expect it to over the next few days, then I'll have a couple more recommendations for subscribers.

Best regards and good trading,
Jeff Clark