It's not always easy to tell when a stock's price is about to get squashed like a bug. But sometimes, it's posted on a marquee...
In just over one month, Hollywood's most anticipated, sure-fire blockbuster – Spider-Man 3 – will be released in theaters all over the country. And, if history is any sort of a guide, shares of Marvel Entertainment (MVL) ought to top out at about the same time.
The first Spider-Man movie debuted on May 3, 2002. It was the biggest opening weekend in Hollywood history. Teenagers camped out overnight to get tickets. Theaters were packed. The consumption of popcorn delayed the ethanol boom by at least two years. And $6 boxes of Jujubes flew off of concession-stand shelves.
Fortunes were made – but not by shareholders.
As you can tell from the following chart, the biggest opening weekend in the history of Hollywood was a bust for Marvel shareholders...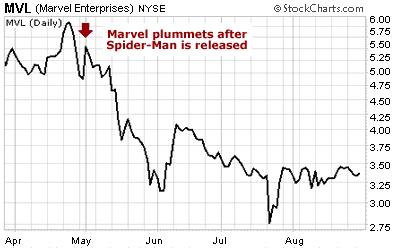 MVL shares, which peaked at a split-adjusted $5.50 on May 2, 2002, fell immediately and eventually lost 50% of their value.
The same thing happened again on June 30, 2004.
Spider-Man 2, the biggest sequel in the history of Hollywood, led to a similar sequel in Marvel stock...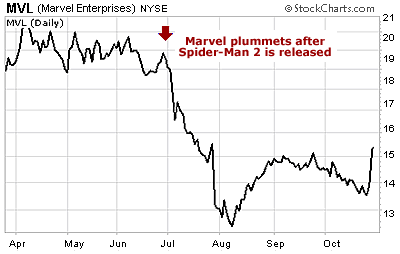 Once again, the stock peaked just ahead of the movie release... then nosedived for the next several weeks. This time the stock lost "only" 40% of its value.
Care to guess what's likely to happen when Spiderman 3 hits theaters in about six weeks?
Marvel shares are up over 70% in the past eight months. And the web-spinners on Wall Street are claiming that fortunes are about to be made. But it's a tangled web they weave.
Flies that get tangled in a spider's web don't fare too well. Neither do investors that get caught in a web of hype.
The Spider arrives in six weeks. Perhaps it's time to start thinking like an exterminator.
Best regards and good trading,
Jeff Clark