It's almost time to buy oil stocks.
Yes, I know that sounds crazy. I've been
bearish on oil and oil stocks
for the past few months. And now that oil has finally broken down and looks like it's headed back to $100 per barrel, I'm writing about buying oil stocks?
But here's the deal...
Oil stocks have fallen sharply over the past few months. For example, ExxonMobil (XOM) – the world's largest oil company – has fallen from $96 per share to just above $80. British Petroleum (BP) is down more than 20%. And XLE, the Energy Select Sector ETF, hit $90 per share back in May and bottomed last week at just over $75 – a drop of over 16%.
The funny thing is, oil stocks were falling while the price of crude oil was rising. Of course, if you pay close enough attention to the markets, then you know the price of oil stocks often leads the price of oil. So the weakness in the oil sector over the past two months was a huge warning flag that crude oil was about to top out.
Now, however, we're looking at a different situation. Crude oil is just starting to fall while oil stocks are well off their highs.
But the stocks are ready to turn higher.
Take a look at this chart...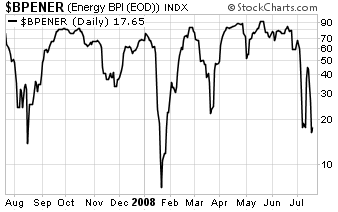 The Bullish Percent Index displays the number of stocks in a sector that are trading in bullish formations. When the index gets above 80, the sector is overbought and vulnerable to a correction. When the index drops below 30, the sector is oversold and traders should look for buying opportunities.
Almost everybody thought I was crazy to write that essay. After all, the financial sector is in a world of hurt and firms are writing off billions of dollars in losses every week. No one in their right mind would dare buy a bank stock in that situation.
If you were crazy enough to take my advice, then you're sitting on huge profits today. Just about every financial stock is higher today than where it was on July 10.
I'm betting that just about every oil stock will be higher two weeks from now. Even though I expect the price of oil will be lower.
I know it doesn't make a lot of sense to be bullish on oil stocks and bearish on oil. But when has the stock market made any sense?
Traders make profits by betting against conventional wisdom. You made money buying bank stocks two weeks ago, when the sector looked worse than it has in over 10 years.
Today, you'll profit by buying oil stocks as crude oil starts to fall.
Best regards and good trading,
Jeff Clark