The S&P 500 has finally given us a taste of the trouble we've been predicting for months.
As early as November 2006, I've been expecting a correction. At that time, the corporate insider sales/purchases ratio was a whopping 132 to 1: more than six times the historic average of 20 to 1, and an all-time high.
All in all, 19,976 corporate insiders combined to dump $4.5 billion worth of their companies' stocks in November. So it's little surprise that three months later, the S&P 500 finally took a nosedive.
We've now seen two bounces from the S&P 500 around the 1375 level. Both times, the market failed to launch a sustainable rally. And the second bounce has thus far failed to climb above the first.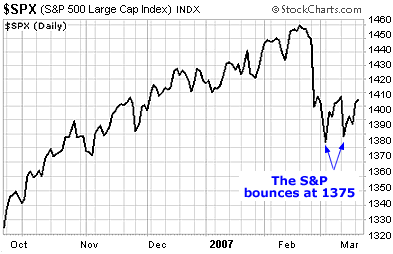 To me, both instances look like dead cat bounces. The old joke is that even a dead cat will bounce if it falls far enough. A similar idea applies to markets. When stocks drop far enough quickly enough, there's usually a quick bounce soon after, even if the market is set to fall farther in the near future.
These days, from an insider perspective, there's been some improvement in sentiment. For the two first weeks in March, insiders have bought nearly $58 million in stock. By headcount, the seller/buyer ratio has fallen below 5 to 1: the lowest it's been since September. And the sales/purchases ratio is back to 24 to 1: much, much more in line with historical averages than we saw last fall.
However, the vast majority (71%) of insider sales are in large-cap stocks. And until we see the bulls take over in large caps, I think that we're in for more trouble in the near future.
I think it's still too early in the correction to jump into speculative trades, however the "safe haven" investment I described seven weeks ago –
Enterprise Products (EPD)
– has done wonderfully. At that time, EPD was trading around $29 and yielding 6%.
If you've been reading Growth Stock Wire for a while, you've probably noticed oil and gas pipeline firms like EPD have hardly been touched by the recent correction. They're soaring, in fact. In 2007 alone, EPD shares have gained over 9%, as investors flock chase EPD's large dividend yield.
EPD's founder, Dan Duncan, is chasing the stock too. He's already bought $7 million worth of EPD's stock in 2007. With nearly half of his net worth tied up in the stock, it's good to see him adding to his holdings despite the current shaky market.
This is where billionaire Bill Gross, the greatest bond investor of the 20th century, has been putting his money. Bill, aka the Bond King, is the founder of Pacific Investment Management Company (Pimco).
With more than $600 billion in assets under management, Pimco is the largest bond investment firm in the world. And Bill's been shifting his own money to muni bonds and closed-end muni bond funds at Pimco. In the last two years, Gross has put $19 million of his own money into Pimco muni bond funds.
Income plays and muni bonds: this is where to be when the dead cat stops bouncing. And it's not too late to buy... for both investments, the billionaires are still loading up.
Good trading,
Graham