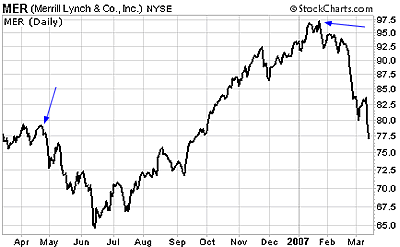 Shares of Merrill Lynch (MER) warned us of the current correction, just as they warned us last year before the market corrected in May.
The patterns are so similar it's spooky.
MER peaked right after announcing record earnings in April 2006. The shares then dropped 20% and led the S&P 500 through an 8% decline.
MER peaked again this year right after announcing record earnings in January. The shares are now down 20%, and at the lows of the day yesterday, the S&P 500 was off about 7% from its high.
It's now time to start looking for signs of life from the canary. And, if you watched close enough yesterday, then you caught a little glimpse.
Early on in yesterday's trading session, the Dow was off about 90 points, and MER traded as low as $76.85. Both rebounded a bit and then headed lower again. But as the Dow hit a new low and traded down 135, MER held above $77.
It's a small divergence, but a noteworthy one.
I've written before about how the trading activity in MER
provides clues
of potential reversals in short-term market trends. Yesterday's activity was no exception.
The Dow rallied back from minus 135 to close up 57 points.
So, does this mean the correction is over? I'm not sure we can say that just yet.
The canary has taken a turn for the better, and as long as MER holds above Wednesday's lows ($76.85), then we should see some additional buying over the next few days.
But the intermediate term is a bit more worrisome. The market rarely conforms so well to the
A-B-C correction
pattern I wrote about last week. The market dropped rapidly, rallied back up very near to our 1,425 target on the S&P 500, and then dropped again – nearly hitting the 200-day moving average, our downside target.
Either the crystal ball is working to near perfection, or we're being set up for a big surprise.
For now, though, the bulls deserve the benefit of the doubt. And as long as the canary holds above Wednesday's lows, then we can venture cautiously back into the mine.
But let's stay wary of anything much more long term than the next few days. And if MER drops below $76.85, then get out fast.
Best regards and good trading,
Jeff Clark