Silver and gold have broken out to the upside. Can palladium be far behind?
The past week has been good for precious metals. Gold is once again zeroing in on $1,000 per ounce...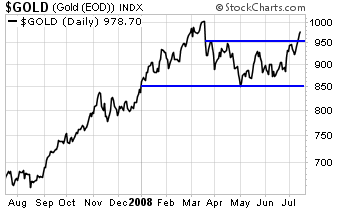 And silver is rapidly approaching $20 per ounce...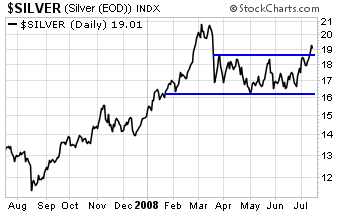 Both charts suggest we'll see higher prices... Both have broken out of horizontal rectangle patterns. And both should now move higher and challenge their March highs.
Of course, we may see some short-term weakness as prices come back down to test the breakout levels. Ultimately, though, gold should be headed to $1,050, and silver should make it at least as high as $20.30.
Gold and silver stocks both reacted favorably to the breakouts. Many of them raced away to the upside and challenged their highs for 2008. That action, of course, has me looking for lesser-noticed opportunities.
Once again, I'm drawn to palladium.
We first took a look at palladium back in May, when the metal was at $425 per ounce. It rallied as high as $475. And the two stocks I highlighted in my article scored big gains in the days that followed.
Today, palladium is tracing out a horizontal rectangle pattern, similar to what we've seen in gold and silver. If it breaks out of this pattern, then palladium could run as high as $525 per ounce.
Here's the chart...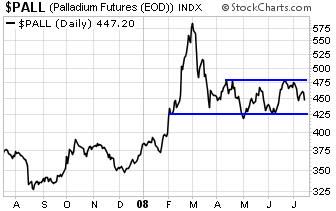 The biggest gains, however, will once again come in the shares of North American Palladium (PAL) and Stillwater Mining (SWC) – North America's two largest palladium-mining companies.
Mining stocks are a proxy for the underlying metal. So just as gold stocks rise when gold goes up, and silver stocks rally when silver rallies, palladium stocks climb when palladium moves higher.
But the percentage gains in the stocks are usually much larger than the gains in the metals. Mining companies are sitting on large reserves of gold, silver, or palladium. So a small increase in the price of the metals creates a large windfall for the companies, and an even bigger windfall for investors.
Gold and silver started a renewed up-leg last week. Palladium looks ready to follow in their footsteps. If it does, then shares of PAL and SWC might make for a good speculative trade.
Best regards and good trading,
Jeff Clark