"Never, ever challenge worse."
Over the last week, I kept hearing one of Bill Cosby's old standup routines in my head. In it, Cosby keeps coming back to the above punch line. Cosby warns that whenever you say, "Things couldn't possibly get worse," worse comes to town.
Cosby's punch line certainly sums up the subprime sector over the last month, but there's nothing funny about it. First came profit warnings and dips for New Century Financial (NEW) and British banking giant HSBC. NEW shares tumbled more than 40% in a single day. At the time, we thought things couldn't get worse for NEW.
And then worse came to town.
The following week, another subprime lender, NovaStar Financial (NFI), announced it would have no taxable income for the next four years. In one day, NFI shares lost 40% of their value... and pulled the entire subprime sector with them. NEW shares began to slide farther and farther down.
Worse was here to stay. On Monday, NEW announced a criminal probe into its accounting practices and the trading that took place in the days before it restated its earnings. NEW shares plummeted 69% in a matter of minutes. Altogether, we're looking at an 87% dip in NEW's share price in one month's time.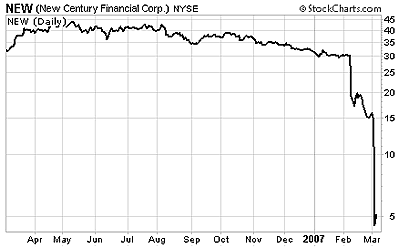 Altogether, 33 subprime lenders have either gone bankrupt or simply closed up shop in the last two quarters. There's even a popular website tracking the
mayhem
.
However, it looks as though we're in for a bit of a breather. Yesterday, the subprime sector bounced considerably. New Century rose 10%. NovaStar was up 8%. Accredited Home Lenders (LEND) rose 9%. The list goes on and on.
So... the issue now for bargain-hunting contrarians is whether or not this will merely be a dead-cat bounce or if the worst is over. Insiders are certainly not banking on a quick rebound.
I've looked at dozens of subprime companies' SEC filings in the last week, and I can't find any significant purchases anywhere. Nobody's buying. They're not all selling... but nobody is buying.
Some of these companies are now trading for less than two times earnings. But when a sector has truly hit bottom, and starts offering fantastic values, the first people to take bullish positions are corporate insiders.
My advice... the subprime insiders aren't buying. I don't think we should either.
Good trading,
Graham Summers