"Make a legal U-turn, NOW!"
My family and I were headed to a friend's cabin in Bass Lake, just outside of Yosemite. I've made the trip a dozen times before, but I hadn't been there for a few years, and my wife felt it necessary to plug the address into my car's mapping device. And now it was screaming at me.
"Trust the map," my wife said as I turned onto a dirt road and insisted I knew where I was going. Forty-five minutes later I admitted I was lost, made that legal u-turn, and listened to my wife laugh at me as I backtracked 20 miles to the main road.
Trust the map.
That's good advice when you're heading out on vacation. And it's good advice when you're trading stocks.
Stocks are in a bear market, and many investors are having a tough time figuring out how to trade it. Fortunately for us, we have a map...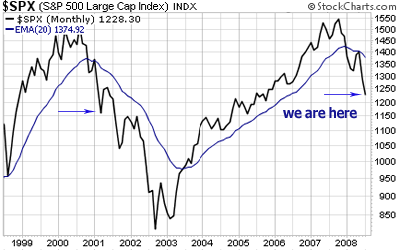 This is a monthly chart of the S&P 500 plotted against its 20-month exponential moving average (EMA). You've seen this chart half a dozen-times before in GSW, and it's an excellent road map for navigating the current bear market. If the S&P 500 is trading above the blue line, stocks are in a bull market. If the index trades below the line, however, we're looking at a bear.
Stocks fell into a bear market back in December. And so far, the market is following the same pattern of the 2000-2002 bear market.
We've seen the initial decline below the blue line, followed by a rally to come back and "kiss" the line from below. Now stocks are mired in a sharp selloff that has knocked nearly 200 points off the S&P 500.
If the market follows the same pattern as the 2000-2002 bear market, then the S&P 500 will likely lose another 20 or so points between now and the end of the month. And that will set the stage for a strong rally in August.
But according to the map, we have at least two more sharp selloffs to endure before this bear market comes to an end. So traders who are buying now in anticipation of an August rally need to be sure to sell as we get closer to the traditionally weak months of September and October.
It may seem crazy to trade stocks based on a pattern that unfolded during the last bear market. But that pattern has played out almost perfectly. So, for my money, it's crazy not to follow the map.
Best regards and good trading,
Jeff Clark