I'll start today's column with an incredible statistic... 48.
Forty-eight is how many out of every 100 domestic beers sold in America are made by Anheuser-Busch (BUD).
This is why, along with companies like Nike, Coca-Cola, and Harley-Davidson, Anheuser-Busch is one of the most valuable brands ever created... And it's why a Belgian brewery will most likely be the proud owner of the company.
On Friday, InBev – which makes Stella Artois and Beck's – got a little closer to acquiring Anheuser-Busch. InBev is the world's second-largest brewery by volume sold.
This consolidation talk has been bullish for the beer sector. As the following chart shows, an index of brewers is up 13% since February. The S&P 500, on the other hand, is down 10.8% over the same period.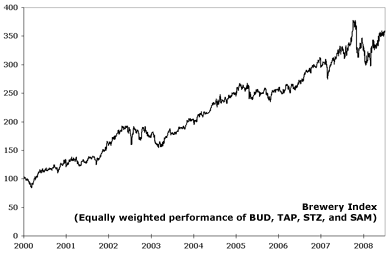 This strength is a classic case of a "defensive" sector doing its job. Here's the argument: In tough economic times, consumers tend to cut down on expensive motorcycles and boats, but they'll keep drinking beer. (If they're behind on their subprime loan payments, they may even increase their beer intake.)
Anheuser-Busch isn't solely responsible for the Brewery Index's strong performance. Since February, Boston Beer is up 6.9%, Molson Coors Brewing is up 16.3%, and Constellation Brands is nearly flat at -1.4%. This is actually fantastic performance when the S&P 500 is cratering.
These shares are also doing well because speculators are betting more consolidation is in the works. Whether this consolidation happens or not, you should still consider a position in breweries. They're simply one of the steadiest sectors in the market... especially during a recession.
Consider that Anheuser-Busch's earnings grew from $1.33 per share in 2000 to $2.44 per share in 2003, during the dot-com crash. And here's a look at how its stock and other major alcohol distributors performed.
Performance from

March 2000 to March 2003

Anheuser Busch (BUD)

54.0%

Boston Beer (SAM)

81.8%

Molson Coors Brewing (TAP)

10.0%

Constellation Brands (STZ)

93.3%

S&P 500

-40.5%
As you can see, breweries are a solid recession investment. (They're also a phenomenal way to invest in emerging markets. A single company often dominates an emerging-market's beer industry.)
Brewery stocks are getting too much media attention these days (because of the Anheuser-Busch story)... so I won't be surprised if they move lower over the next few weeks.
However, if the takeover goes through, InBev may be an interesting investment opportunity as the world's undisputed king of beers. If you buy this stock – and others like it – you're getting in on one of the world's steadiest trends.
Good investing,
Ian Davis