Earnings season starts today.
Alcoa (AA) kicks things off with its report after the market closes. Then, over the next six weeks, investors will be both delighted and disappointed as company after company steps up to the podium and announces how good or how bad business was during the second quarter.
Based on how the stock market is behaving, everyone is expecting bad news.
Of course, high oil prices, a looming recession, and the on-going credit crisis are going to take a bite out of corporate earnings. Anyone who's lived outside a closet over the past few months has to expect that.
And therein lies the opportunity.
Normally, I don't like to trade stocks ahead of their earnings announcement. It usually seems more like gambling than trading. This quarter, however, it's time to make an exception.
Investors are pricing in the worst of all possible scenarios. For example, we all know the financial sector is in trouble. One look at the following chart of the Financial Sector Select SPDR, which hold about 100 financial firms, tells us that much...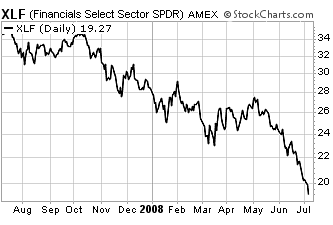 We're going to hear horrible news from banks and brokerages this quarter. Combined, they'll lose billions of dollars. And they'll need to raise billions in additional capital.
Duh.
The dark cloud hovering over the financial sector is raining on the rest of the market as well. But what if things aren't as bad as everyone expects? What if, instead of Armageddon, we just get the plague? My bet is stocks will rally.
The market is pricing in an unmitigated disaster, but we haven't actually heard too many earnings warnings from the companies themselves. Companies that will disappoint investors already have that disappointment factored into their stock prices. So there's limited downside. And companies that do better than expected should see their stocks pop higher.
This is a low-risk, high-reward setup... and we need to take advantage of it.
One way is to go back over last quarter's earnings announcements and look for companies that raised guidance for this quarter. Keep an eye out for stocks that are down sharply but haven't released any bad earnings-related news to account for the move. It may be worth taking a shot and buying those stocks before this quarter's earnings announcements.
It will take some digging. But the rewards will be well worth the effort.
Best regards and good trading,
Jeff Clark