It's no secret I'm a
Big Pharma bear
. And my favorite target is Pfizer, the world's largest drug company.
Over the last year, I've been railing at readers to
keep as far away from Pfizer as possible
, and
Growth Stock Wire
subscribers have certainly gotten an earful of my Pfizer bashing. (If, by some chance, you missed my rants, here's
one of my favorites
. It offers investors three ways to cash in on the drugmaker's demise.)
By no means do I get 'em all right. But as you can see from the following chart, my Pfizer call has been spot-on. The stock's taken a 32% nosedive over the last year, 10% in the last month alone.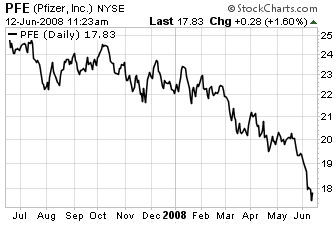 Pfizer stock is now selling for around 10 times free cash flow – outrageously cheap. Even more tantalizing is its 7% dividend yield. But don't let the fat dividend tempt you...
At 7%, Pfizer's dividend is the drug industry's highest, more than double the industry average (3.3%), and three times larger than the S&P 500 average (2.2%). Right now, the stock's high yield is the one thing protecting Pfizer's shareholders from utter catastrophe...

But Pfizer's dividend will disappear in less than two years.
The company has close to $30 billion in the bank, so you might think I'm crazy to question its hefty payout. And the company's CEO and CFO claim the dividend is not only safe, but should grow 10% this year (barring any "significant events"). I don't buy it...
To take advantage of lower foreign tax rates, Pfizer holds a majority of its cash, as much as 75%, outside of the U.S. But American corporate dividends must be paid from U.S.-based funds. Uncle Sam would wallop Pfizer with a staggering tax bill if the company brought foreign cash back home. So rather than pay the taxes, the company borrowed money this year to fund its dividend, upping its short-term debt by 50%.
Next year, to maintain its dividend without adding to debt, the company needs to bring in $8 billion in cash. To increase it 10%, as management suggests, the figure is closer to $9 billion. That's possible, if difficult, with the company's current free cash flow around $10 billion per year. But Pfizer is set to lose its top-selling cholesterol drug, Lipitor, to generic competition within two years. Lipitor brings in $13 billion a year and accounts for roughly 65% of the company's annual free cash flow.
To make up for the loss, the company has cut costs, dumping 10,000 employees (including the chemist that developed Lipitor) and halting its share repurchase program (even with the stock bouncing off multiyear lows). But now that the easy cost-cutting measures are through, Pfizer's management must be eyeing the annual dividend payment.
I don't see how the company can keep up its high yield, let alone increase it, without taking on even more debt. When you're borrowing to expand, that's one thing. When you're borrowing to throw the money out the door, that's another.
So it's a matter of "when," not "if," the Pfizer dividend yield falls at least back to levels in line with its peers. When this happens, you don't want to be a shareholder. I'd expect another 40% drop from today's depressed trading levels.
The dividend cut could come a lot sooner than expected, too. I had a good chuckle at management's "significant events" disclaimer. I waited for the obvious question that nobody asked – Does the loss of a $13 billion annual drug franchise count as a "significant event"?
Good investing,
Rob Fannon