I've been bearish on oil refiners for nine months...
The situation for oil refiners in mid-2007 was just too good. Their profits were far too large. I didn't think the stocks could go any higher. Here's why...
A refinery converts crude oil into usable products like diesel and gasoline. Its profits come from the "crack spread," which is the difference between the cost of oil and the price of gas or diesel. The best situation for these companies arises when the crack spread is large and they can sell their product for a high amount relative to crude oil. This situation arose in mid-2007...
Between February 20 and March 28, the average price of unleaded gasoline rose 49.4%, but the price of crude oil only rose 21.1%. This led to huge profit margins for the oil refiners... profit margins that seemed likely to persist.
You see, demand for petroleum products was growing, and no new refineries were being built. The last new refinery in the United States was constructed in 1976. Major hurdles prevent the construction of new refineries: financing a new project, getting permits, dealing with the environmental concerns.
And refineries experienced more than 30 unplanned outages in the U.S. in April 2007. Because of these outages, 400,000 fewer barrels of oil were being processed into gasoline each day, driving gas prices higher.

This is why most people thought I was crazy when I made a
bearish
call on refiners in a June
2007 issue of the S&A Digest
. Investors were making money on refiners hand over fist, and the stocks were priced as if the good times would continue forever. Refiners were the darlings of Wall Street.
I disagreed...
Refinery outages are temporary problems, and simple economics says demand will moderate as prices increase. Less demand from consumers, along with the same level of gasoline production, leads to lower gas prices. So I knew these margins had to shrink.
As it turns out, I was right. By last month, refiners' profit margins had disappeared... and with them went the refiners' stock prices. An index of the four largest refiners fell by half.
Today, however, we are in the opposite situation. The price of oil has outrun the price of gasoline, and oil refiners' margins are terrible.
The following chart shows my crack-spread indicator (a ratio of the price of gasoline to the price of oil) compared to an index of oil refining stocks. If the gray line is above zero, the crack spread is above its average level. If it is below zero, it's below average.
Refining Stocks Are Up 10% and the Crack Spread is Improving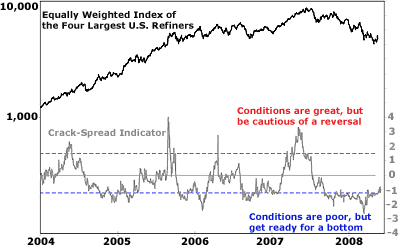 As you can see, the crack spread has risen substantially from its March low.
Oil refiners are cheap, they are rallying, and investment banks are upgrading the stocks. Unfortunately, there is no refiner ETF. But here's a look at the four largest U.S. refiners...
| | | | |
| --- | --- | --- | --- |
| Company | Price to Earnings | Price to Book | Yield |
| Tesoro | 6.6 | 1.2 | 1.5% |
| Holly | 9 | 3.9 | 1.3% |
| Valero | 7.7 | 1.4 | 1.2% |
| Sunoco | 8.1 | 2 | 2.7% |
As you can see, all of these stocks are extremely cheap right now. And I believe the worst is now over for oil refiners. The situation is going from bad to less bad. The last time oil refiners were in this situation, the refiner index rallied by 40% in the following six months.
Good investing,
Ian