Every day, 8,000 Americans turn 60 years old...
Some 40% of U.S. adults are over 60... America's "old-timers" are the driving force behind big, safe returns for health care investors.
Today, I'm going to share with you a health care investment you've probably never considered... one that's set to grow in step with the aging population, returning hefty yields along with steady capital growth. Let me explain...
Today, health care accounts for 15% of U.S. spending, about $2.2 trillion. That already staggering number is set to skyrocket in the next decade as the waves of the "silver tsunami" wash ashore.
You see, regardless of how healthy you are as you age, the majority of your lifetime medical expenses – approximately 80% – will come due in the final years of your life. As you would expect, a large portion of these dollars will flow to hospitals and assisted-living centers. So, as an investor, you might be tempted to buy the companies operating these medical centers and nursing homes. It's not a bad idea... But I've got a much better one...
The safest way to play this megatrend is to buy the landlords... the companies that own hospital buildings, medical offices, and other health care facilities. Here's why...
REITs, by law, must pay 90% of their income to shareholders. In return, these companies pay little to no taxes. Health care REITs lease their buildings to medical-service providers or "operators," who sign 10- to 20-year leases and are responsible for all property taxes, utilities, and expenses.
So health care landlords are practically immune to rising energy costs. In addition, automatic rent escalators – about 2%-4% annually – protect landlords from inflation.
And people get sick and go to the doctor no matter what the economy is doing. That's why medical stocks like health care REITs are the ultimate "defensive" stocks... investments that perform well regardless of tumultuous economic cycles.
Of course, the words "real estate" now make the average investor cringe... Nearly every REIT started to tumble early last year, and health care REITs were no exception. But consider this: While REITs in general have fallen another 15% in the last 12 months, health care REITs are about flat. And that's not counting their 6% dividend yield, which is 50% higher than the general REIT industry.
Now take a look at this chart...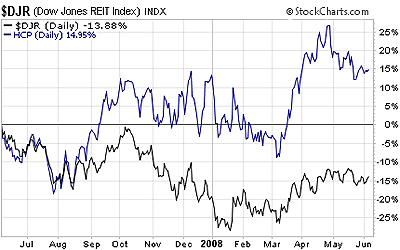 This plots the one-year performances of the Dow Jones REIT index (black) and bellwether health care REIT HCP Inc (blue). HCP is the market's largest, most diversified health care REIT. And it's led the charge into laboratory space in biotech hot spots like San Francisco and San Diego.
HCP is up about 20%, including dividends, since I introduced
Growth Stock Wire
readers to the idea of collecting "
health care rent checks
" in July last year. And it's up 9% since I
revisited the opportunity
in November, while the S&P is down 4%.
HCP is one of four health care REIT recommendations I've made to my paid subscribers. Including dividends, we're up an average 22% in just one year. But with America's 60+ club adding 8,000 new members daily, I think this is just the beginning.
Good investing,
Rob Fannon