Big Pharma's in trouble.
Just ask Pfizer (PFE). It gambled some $800 million on a heart drug and lost big when bad safety data sank the program last year. Now, the largest drug company in the world is slashing 10,000 jobs – a tenth of its global workforce. Five of its R&D and manufacturing facilities will be closed, too.
Other big drug companies are following suit – AstraZeneca, Eli Lilly, and Merck are all trimming down. Generic drugs, eroding pipelines, and increasing regulation are just a few of the problems that haunt Big Pharma.
The Economist cites the vertically integrated, or do-it-yourself, business model as a main contributor to industry woes. The drug giants simply need to slim down.
So, like many other American corporations, Big Pharma has turned to outsourcing as a primary means of corporate dieting.
For instance, these days when Pharma giants like Pfizer and Novartis want to test new drugs, they often don't do the work themselves.
Instead, they hire what's known in the business as a contract research organization, or CRO.
These CROs are experts in toxicology, drug metabolism, pharmacokinetics, and chemistry. They perform, track, and report the laboratory and clinical research that every drug is required to pass according to U.S. Food and Drug Administration rules.
Bringing a new drug from lab bench to pharmacy shelf costs a drugmaker about $1 billion over 10 years. Even short delays before a drug launch can cost drug companies hundreds of thousands, perhaps millions, of dollars. Studies show drug development in the CRO industry is 30% more efficient than drug development conducted entirely "in-house" by Big Pharma.
So more and more, pharmaceutical companies are outsourcing the bulk of drug development to CROs. The best part? CROs make huge profits, whether a drug passes or fails. The graph below illustrates how steady this business is...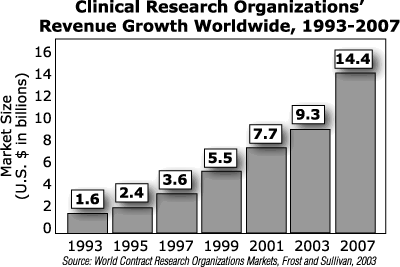 Last year, drugmakers spent about $60 billion on research and development – 25% of that went to the CRO industry. That number is expected to double in five years' time. To get an idea of the money flow into this industry, the top two CROs have a combined sales backlog of nearly $4.5 billion.
The expansion of the CRO market will be fueled by:

More major drug companies looking to cut costs.
The increasing number of smaller biotech companies that a lack development infrastructure and regulatory expertise.
New scientific technologies, coupled with a huge amount of data from the "genomics revolution," which have greatly increased the number of new drug molecules that need to be screened.
The rising number and scope of complex clinical trials.
The aging U.S. population increasing demand on companies that make medical devices (drug-coated heart stents or implantable defibrillators, for example), which will also turn to CROs.
Let Big Pharma shoulder the risks involved with new drug discovery. With CROs, you can take the sure thing and get paid either way.
Good investing,
Rob Fannon