Gold stocks are starting to look bad... and that's a good thing, because it may lead to a buying opportunity later this week.
Let me explain...
First, let's take a look at a chart of the Gold Bugs Index (HUI):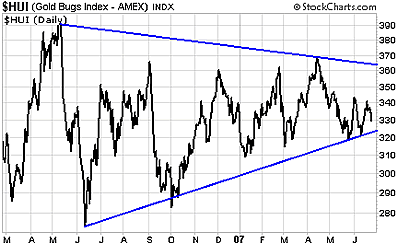 As you can see, gold stocks have been stuck in a fairly large trading range since the sector topped out last May. Notice, though, how the support and resistance lines are coming together... and how the trading range has slowly grown more and more narrow.
It won't be long now before the sector finally breaks out of the range, and we get a move that's actually worth trading.
And if you're bullish on the sector, then you should be rooting for a big move to the downside.
I know that sounds backwards, but remember – we're talking about gold stocks here. And gold stocks trade unlike any other sector. They have more false moves than an NFL running back, and it's all caused by emotion.
Gold stock investors
tend to be very emotional. They buy in a panic, and they sell in a panic. And if you want to make money in gold stocks, then you need to recognize the "panic" state.
Think about that last few times I've written about gold. The stocks were on the verge of breaking out to the upside of the trading range... and I suggested selling the stocks because gold stock investors were just too bullish. They were panicking to get in.
Each breakout attempt failed, and the stocks turned right around and headed toward the lower end of the trading range.
So now, what we need to see in order to set up a good buying opportunity is a good old-fashioned selling panic. If the Gold Bugs Index can break down below about the 320 level, then that might create just enough fear among the gold-investing crowd to finally wash out the excessive optimism in the sector.
Gold stocks fell pretty hard on Monday. And the chart sure looks like it's on the verge of breaking down. Another couple days of similar action might lead to the breakdown... which could lead to the selling panic... would then lead to the buying opportunity.
And you'll know it's time to buy when it feels like the last thing you want to do.
Best regards and good trading,
Jeff Clark