Nobody likes me when I write bad things about gold stocks.
"Don't you know the dollar is doomed?" she said, "Don't you know when all the paper currencies become worthless that gold will be the only acceptable method of exchange?"
The thing is – I do know that. I do know that at some point the U.S. dollar will be worth much less than it is today, and only those people smart enough to stock up on gold and shotguns will have any security. I get it.
But I also know that bulls don't like to be ridden. And if this golden bull market is ever going to ride again then it's going to have to buck off a few cowboys first.
You can see it every time the
Gold Bugs Index
(
HUI
) rallies up near 360-370. Gold stocks get more and more volatile, and gold bugs get more and more excited. "This is it!" they scream into the Yahoo message boards, "This is the start of the next leg of the big gold bull market."
But then the gold stocks fail to break out. They tumble on back down into their year long trading range. And then the gold bugs start moping and mumbling about some sort of government conspiracy.
Who knows? Maybe it is a rigged market. Maybe Bernanke, Greenspan, Cheney, Bush and the folks in charge over at the Trilateral Commission are working to keep down the price of gold.
But if you know it's a rigged market, then doesn't it make sense to trade on the side of the riggers? Which means – until further notice – you buy at support and you sell at resistance.
Look – I'm as anxious as anyone to get back into the gold sector. I've been sitting on the sidelines since last May and every time the sector rallies up near the top of its trading range, I feel the urge to get in the game. We've made this trip four times since last May and each time we get close to the top of the trading range the gold bugs start screaming, "This is it! This is it!"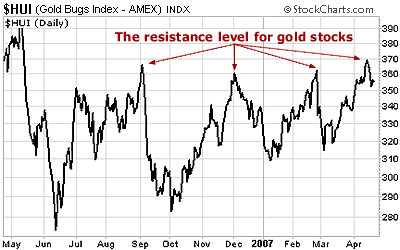 The real time to get into the gold sector will be when we take a trip down to the bottom of the trading range, and all you hear is the sound of crickets chirping. If the gold bugs are quiet and there's no interest in buying, then the cowboy has been bucked off. And the bull will be ready to run.
That's going to take a while. So, until then, you might want to take a look at the
biotech
and
semiconductor
sectors. You'll find lots of bulls – and very few cowboys.
Best regards and good trading,
Jeff Clark