It's been a tough month for fixed-income investors.
Interest rates have spiked sharply higher over the past few weeks, and bonds and bond mutual funds have fallen sharply as a result.
Take a look at this chart of one of the most widely followed bond ETFs, the Lehman 20+ year Treasury Bond Fund (TLT):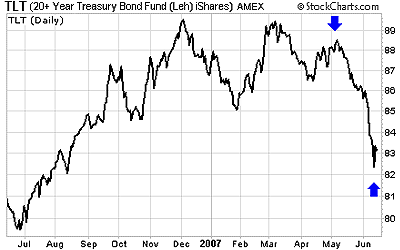 I think investors who bought bonds and bond funds for income and safety of principal are going to be surprised when they open their statements this month and find that they're down 6% or more.
It's a common misconception that bonds are safer and less volatile than stocks. If you take another look at the chart above, you'll likely agree that TLT is at least as volatile as any stock you own.
The best time to own bonds is when interest rates are high and are moving lower. As interest rates drop, bond prices go up, and investors capture capital gains along with their high interest payments. It's the best of both worlds.
But that hasn't been the case in the United States for at least the last four years.
When the Fed started raising interest rates in 2003, it was the first signal to get out of the bond market. You see, as interest rates go up, bond prices fall (as evidenced over the past six weeks).
It's one thing to buy a bond at 8% or 9% and lock in a high yield as the Fed is lowering rates. It's quite another to tie up long-term money at 5% when the Fed is tightening rates.
Of course, the Fed has been tightening rates for several years now, and bond prices have held up quite well. Investors have been collecting their 5% interest checks and the principal has held steady – well, until recently that is.
The 6% drop over the past six weeks is just the beginning. The tone of the interest rate market is changing. And, while we might see a small bounce in the bond market to counter the extreme move of the past few weeks, bond prices are headed lower – possibly much lower.
So what's a fixed-income investor to do?
There's only one fixed-income strategy that consistently makes money in a rising interest rate environment. It's a simple strategy called
covered call writing
.
You may have heard of this strategy before. You may have even attempted covered call writing before. Lots of people have.
There is, however, a right way and a wrong way to sell covered calls... And, from what I saw during my 22-year career in the brokerage business, most people do it the wrong way.
Next Tuesday, I'll show you the correct way to generate income by selling covered calls. It's safer than buying bonds and it pays a lot better too.
Until then...
Best regards and good trading,
Jeff Clark