Once again, it's time to review our ABC's...
I first wrote about
A-B-C corrections
back in March. They're basically three-step corrections. The "A" leg is the first downward move - which is what we saw last week, and I think we're nearing the end of it. The "B" leg is the inevitable oversold bounce that rallies the indexes back toward their breakdown levels. And the "C" leg is the final decline that violates the "A" wave lows and establishes the real bottom.
Take a look at this chart of the S&P 500...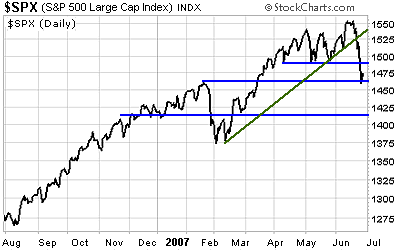 The diagonal line is the primary support line that was violated last week. The horizontal lines are subsequent levels of support.
Last week's selloff had all the makings of a panic... and the low point of trading yesterday likely marks the low point of the "A" wave of this correction.
Now we should see the "B" wave bounce. A strong bounce from this level should rally the S&P back up to 1490 at a minimum. And we may see some selling pressure there... Traders are all looking at the same chart, and 1,490 looks like an obvious resistance level.
But, given the extreme oversold condition of so many technical indicators, I think a "B" wave rally could push the S&P 500 all the way back up to the broken support line around 1,525 or so.
That will be the place to liquidate long positions and establish short positions.
The "C" wave decline will probably come back down to test the low at 1,460, or perhaps drop down to the next support level at 1,420.
Of course, I wrote about this way back in March. And, as you can see from the chart, the big "A" wave drop was followed by a mild "B" wave bounce, and the "C" wave simply came back and retested the lows. That was a very mild correction, and it's possible we'll see something similar...
But the selling pressure last week was so much more intense than what we saw in March, and that will probably lead to a more intense correction.
On the plus side, the commercial traders – aka the "smart money" – increased their net long position even more last week, and the semiconductor stocks are still performing better than the overall stock market. Both of those factors suggest that what we're seeing here is just a correction and not an end to the bull market.
At least, not yet anyway.
Best regards and good trading,
Jeff Clark