The whole country is on drugs.
What else would you expect when you can take a pill for just about anything? There are pills to lower your blood pressure and pills to raise it. There are pills to help you fall asleep and pills to help keep you awake. There are pills to keep you from being depressed and there are pills to calm your anxiety.
And when you find yourself addicted to all these pills, you can take another one to help cure the addiction.
Just about everybody I know takes some form of prescription drug. My father takes 14 pills a day. My brother is on three different forms of medicine. And the entire nation seems to be taking some kind of anti-cholesterol drug.
I don't know if all those drugs are necessary. And I don't know if we could cure all of our ills by simply making a few "lifestyle" changes. But what I do know is that as our population ages, and as more and more people take more and more medications, and as the HMOs and PPOs and government-run prescription-drug programs struggle to control costs, generic drug manufacturers are going to make a fortune.
The generic drug business is huge, and it's getting bigger. Analysts expect the market for generic drugs to grow by at least 15% per year through 2010. That growth will spring from an aging population and a record number of drugs that go off patent in the coming years.
Over $16 billion in brand-name drug sales go off patent in 2007. And that figure rises to more than $100 billion by 2010. In other words, the generic drug business has the opportunity to double within the next three years.
You don't see that kind of growth in too many industries. So, like I said, generic drug manufacturers are going to make a fortune. And, if you own the right stock, so could you.
There are eight primary players in the generic drug business. Only two of them managed to turn a profit over the past 12 months. The industry leader is Teva Pharmaceuticals (TEVA). And, as you can tell from the following chart, shareholders who bought the stock last year are already on the path to riches.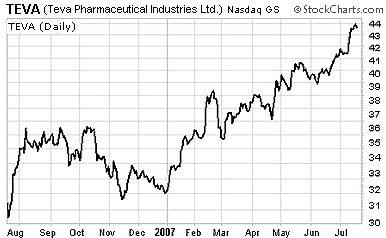 But I think it's the No. 2 stock in this sector that offers the best opportunity right now.
The stock was trading at a 52-week high just two months ago, but today it's trading near a 52-week low. Investors are having a tough time digesting the company's recent decision to acquire a foreign competitor, and they're selling the stock off in order to ease their pain.
But, if you ask me, they should keep the stock and maybe just take a pill instead.
Best regards and good trading,
Jeff Clark